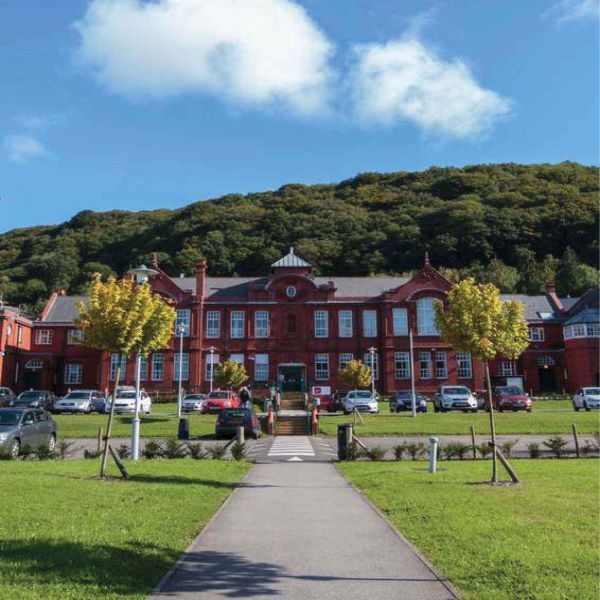 Programs In Partnership With University Of South Wales, UK
With a history of more than 100 years, University of South Wales (USW) is a modern, industry-focused, Public University which is accredited and recognized by the Privy Council and many other professional organizations. Educational programs at USW are The Quality Assurance Agency (QAA), UK certified educational programs for high standards of teaching, learning and research. University of South Wales is a truly International University with students from all over the Globe.

Program Objectives
To prepare and equip the students academically and experientially to face global economic challenges and economic highs in a competitive corporate world. To develop people skills and pursue overall excellence in a global environment.
Program Features
International exposure
Wider professional network
Updated industry 4.0 course curriculum
Distinguished global faculty pool
Affordable global experience
Key Highlights
Dual degree program (a GMBA degree from USW + a PGPM certificate from Lexicon MILE)
Dual placements (USW in UK + Lexicon MILE in India)
Dual alumni status ( acclaimed alumni status of USW + Lexicon MILE)
Free IELTS 1st coaching/preparation
Free visa assistance from experts making the transition from India to UK a smooth affair
Free 6 employment enhancing certifications
The students travel in a group and not alone as they spend the 1st 6 months together
An opportunity to settle down in UK and earn in Pounds
Global internship of 6 months
Part time jobs to take care of the food and lodging expenses in UK
Updated Course Curriculum
Campuses Located at Cardiff & Newport
Wider Professional Network
Affordable Global Experience
This certification focuses on mastering Word, Excel and Powerpoint. Employers rate MS Office skill proficiency highly from potential recruits.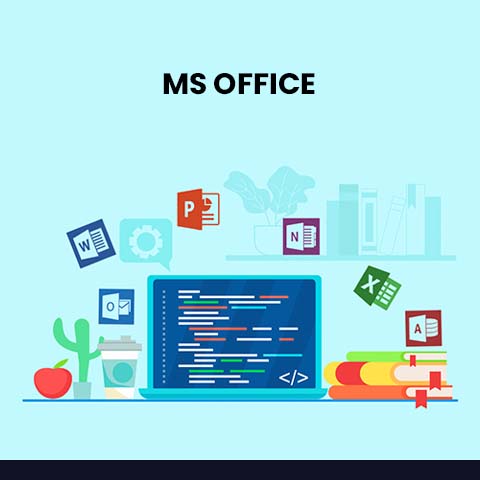 Any Digital marketing activity helps reach out to wider audiences. Hence, it is involved in scaling up of business operations. Fundamentals of DM cover in the certification includes SEO,SMM, Content Marketing and Email Marketing.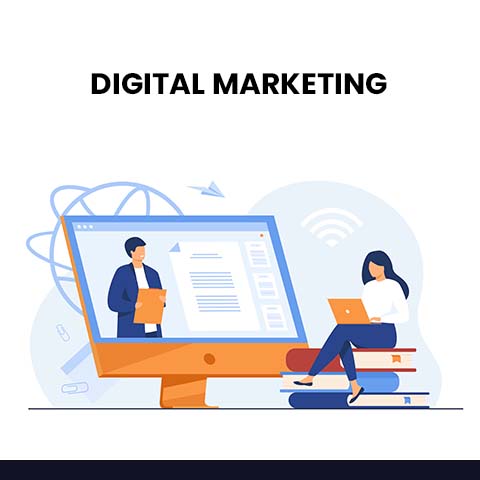 Effective Supply Chain meets customer service requirements at the operational cost. It is the life line of any business activity. Supply Chain disruptions featured strongly during the Covid-19 pandemic. The Certificate gives you an insight of SCM.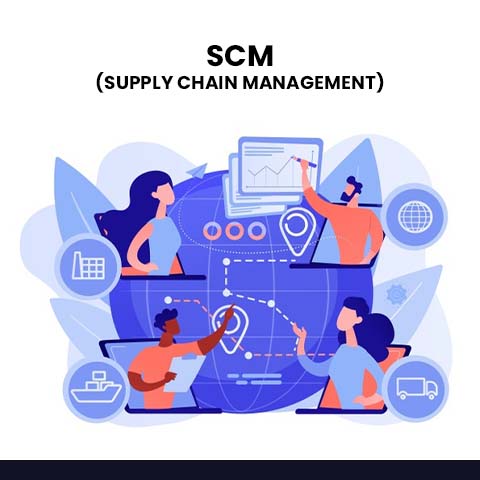 NLP is a way of thinking, an attitude of curiosity, learning, and respect for others. It is the practise of understanding how individuals do what they do; by that, we mean how they think, feel, behave, and what results they produce. NLP comes from three different disciplines, all of which are used and explored throughout this NLP certification.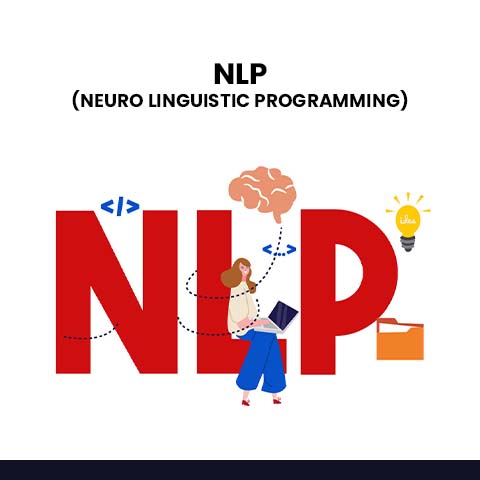 Maintaining positive relationships with clients and others requires a thorough understanding of conflict and how to manage and resolve it. You may have excellent communication skills, but you will run into trouble if clients continue to demand something you cannot offer or provide in the manner they desire. This course will teach you how to understand, control, and manage difficult situations as well as how to deal with conflict effectively.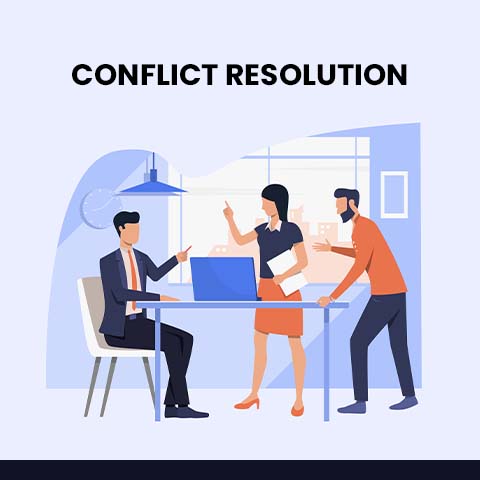 This course combines the basics of portfolio management with comprehensive crypto currency trader learning. It serves as a road map for your personal and technical/financial cryptocurrency success. This course includes all of the tools you need to be successful with cryptocurrencies and portfolio management.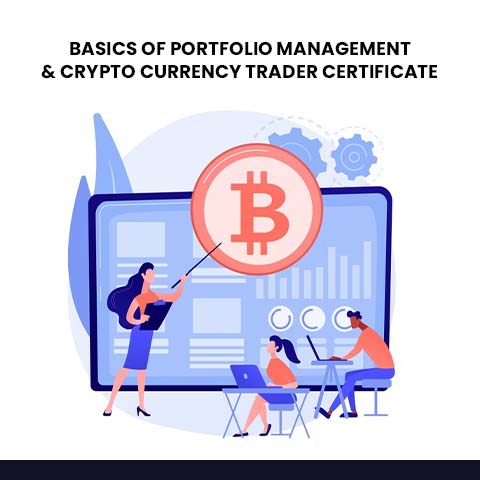 Acceptable USW requirements for English Language competence is mandatory. Some of the qualifying tests are Duolingo, IELTS, PTE etc.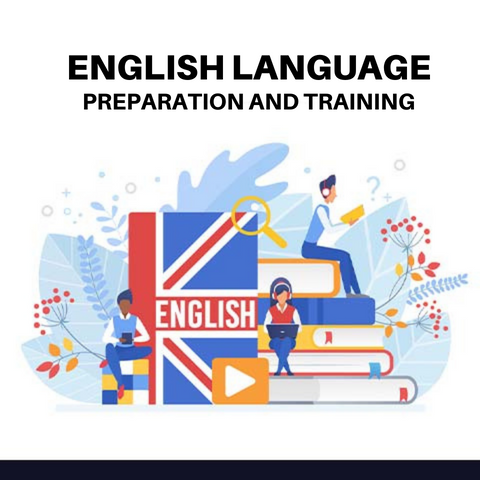 | Sr.No | Name of Subjects |
| --- | --- |
| 1 | Organization Behaviour and Human Resource Management |
| 2 | Leadership Skills |
| 3 | Introduction to Marketing |
| 4 | Future Trends in Marketing |
| 5 | Managerial Accounting |
| 6 | Financial Management |
| 7 | Operations Management |
| 8 | Evolving Technologies |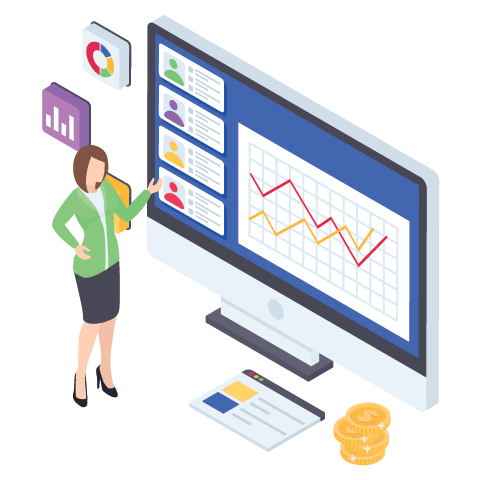 | Sr.No | Name of Subjects |
| --- | --- |
| 1 | Cross Culture Learning |
| 2 | Business Ethics and Corporate Social Responsibility |
| 3 | Industrial Marketing |
| 4 | International Marketing |
| 5 | Corporate Finance |
| 6 | Security Analysis and Portfolio Management |
| 7 | Production Planning & Control |
| 8 | Service in Operations |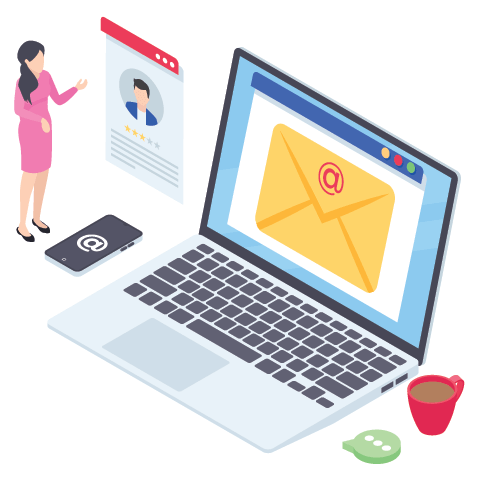 Global Strategy and Emerging Markets
Project Management and Consulting Skills
Global Challenges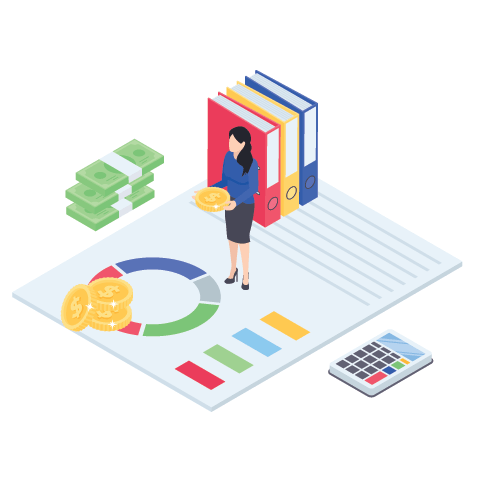 Placements & Specialization Specific Capstone Project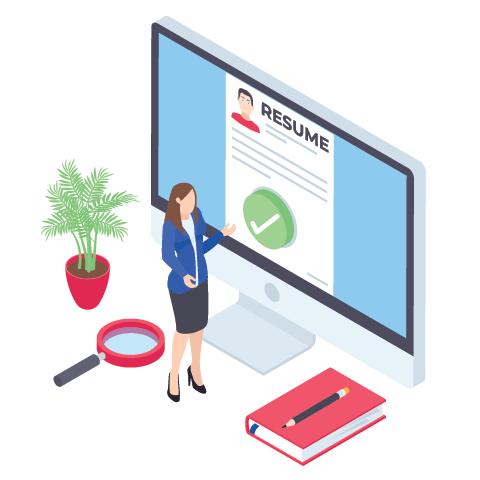 Industry preparedness
Project, Internship, Dissertation
Placement Acumen Training
Industry Preparedness courses: Xls, Mock Interview, Debate, etc.
Diversity and Inclusion
Industry Fitment Training
Aptitude Training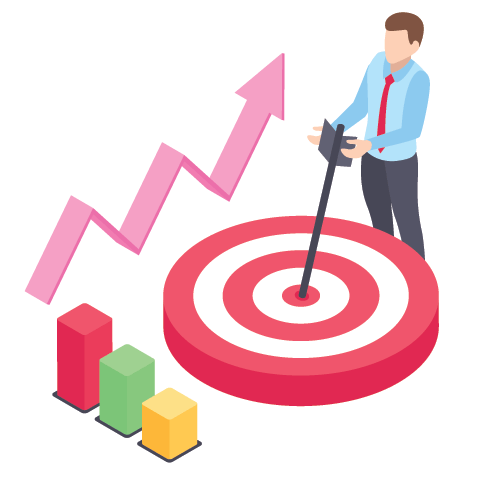 Entry Requirement :
Bachelors Degree in any field with a minimum aggregate of 55%
Valid Passport
Criteria to Progress to Term 3 :
Pass all the subjects of Term 1 and Term 2
IELTS overall score of 6 and no band below 5.5 on the scale of 9 or equivalent
Get a successful General student VISA (Tier 4) to study in the UK.
Please go through the UK Government website (https://www.gov.uk/tier-4-general-visa) to know more about VISA procedure and documents requirement.

Note: You will be given assistance for VISA application during your first Term at Lexicon Management Institute of Leadership & Excellence.
Careers After Program :
Global Supply Chain Manager
Multinational Marketing Manager
International HR Manager
Manager - International Business
Project Manager
Manager Business Finance
Fees Details:
Sr. No.
Particulars
Amount
1
Registration Fees
Rs. 1,50,000/- (One Lakh Fifty Thousand Only)
2
Tuition Fees (1st Installment)
Rs. 2,40,000/- (Two Lakh Forty Thousand Only)
3
Tuition Fees (2nd Installment)
Rs.3,35,000/- (Three Lakh Thirty Five Thousand only)
4
Alumni Fees (One Time)
Rs. 50,000/- (Fifty Thousand Only)
5
Administration Fees (One Time)
Rs. 50,000/- (Fifty Thousand Only)
6
Examination Fees
Rs. 15,000/- (Fifteen Thousand Only)
Total Fees
Rs. 8,40,000/- (Eight Lakh Forty Thousand only)
Account Details for Fees Payment
| Account Holder | Lexicon Management Institute of Leadership and Excellence – A unit of LLPL |
| --- | --- |
| Account No | 5111793292 |
| Type of Account | Saving Account |
| Bank Name | Kotak Mahindra Bank Ltd |
| Branch | Ramwadi, Pune – Nagar Road, Pune |
| IFSC Code | KKBK0000730 |
University of South Wales Fees
| Sr.No. | Particulars | Amount |
| --- | --- | --- |
| 1 | Tuition Fees | GBP 5,000/- |
Link for South Wales Fees Payment
https://www.southwales.ac.uk/international/fees-scholarships/pay-refunds/
Mode of Payment
Cheque or Demand Draft should be drawn in favor of "Lexicon Management Institute of Leadership and Excellence" Payable at Pune.
Through NEFT/RTGS / Google Pay / Phone Pay / Paytm.
After the confirmation of Registration Fees from the account office. You will receive following documents:
| Sr. No | Particular |
| --- | --- |
| 1 | Receipt for Registration fees payment |
| 2 | Assistance and supportive documents for Educational Loan |
| 3 | Faculty Mentor |
| 4 | Schedule for Engagement Activity from Mentor |
Admission Cancellation & Refund:
As per Lexicon Management Institute of Leadership and Excellence and University of South Wales, UK admission, Cancellation and Refund Policy applicable to Academic Year 2022-24 MBA Global Admissions.
Application for cancellation of admission needs to be received in writing via mail or in person within the timeline.
Institute will strictly follow the admission cutoff date mentioned in cancellation and refund policy.
All disputes are subject to Pune Jurisdiction Only
Our Success
Stories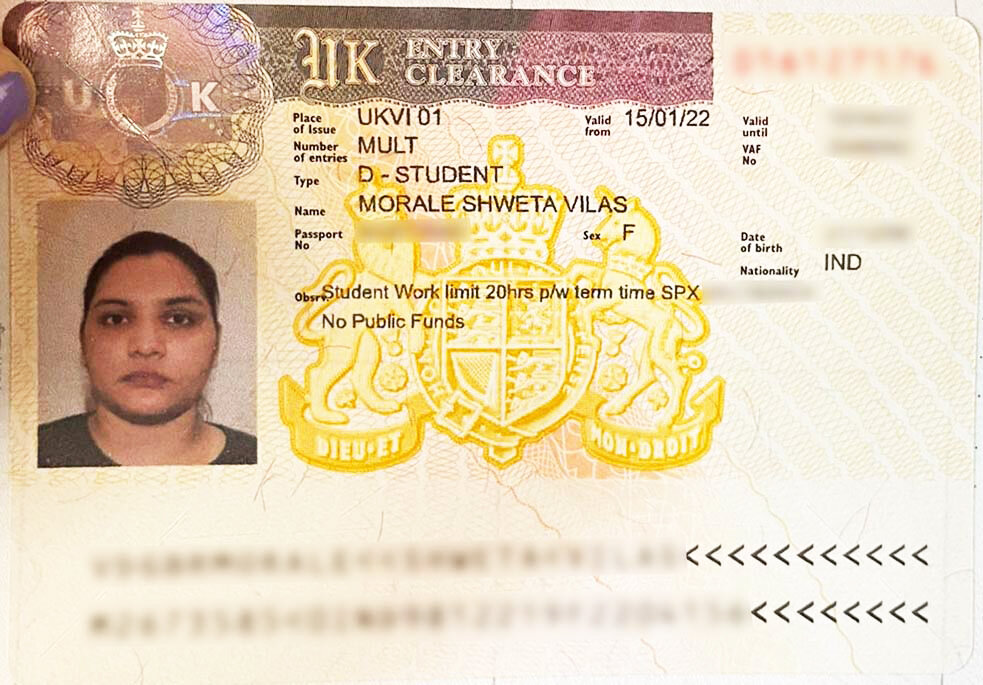 Morale Shweta Vilas
University Of South Wales, UK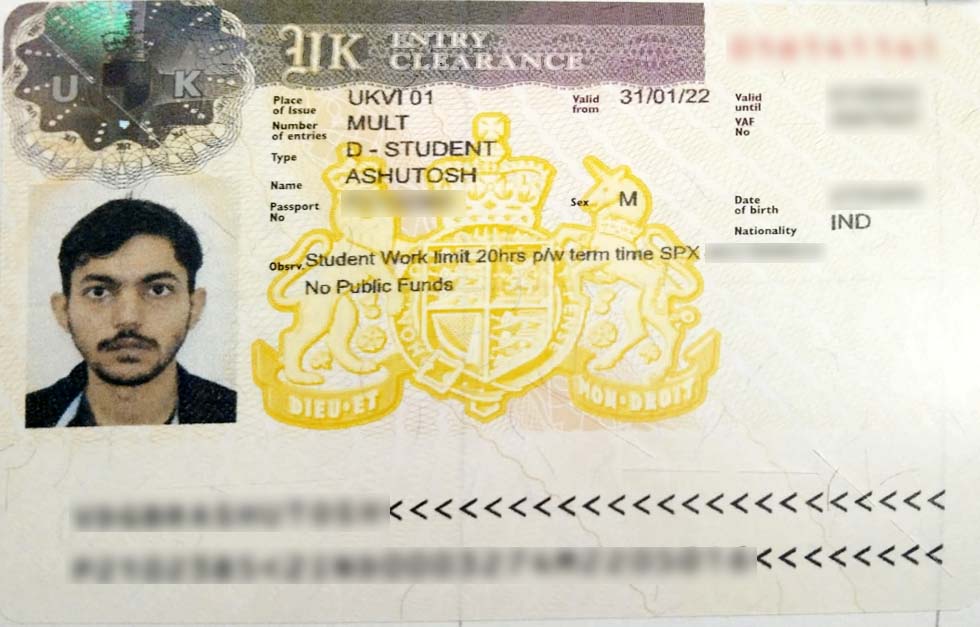 Ashutosh
University Of South Wales, UK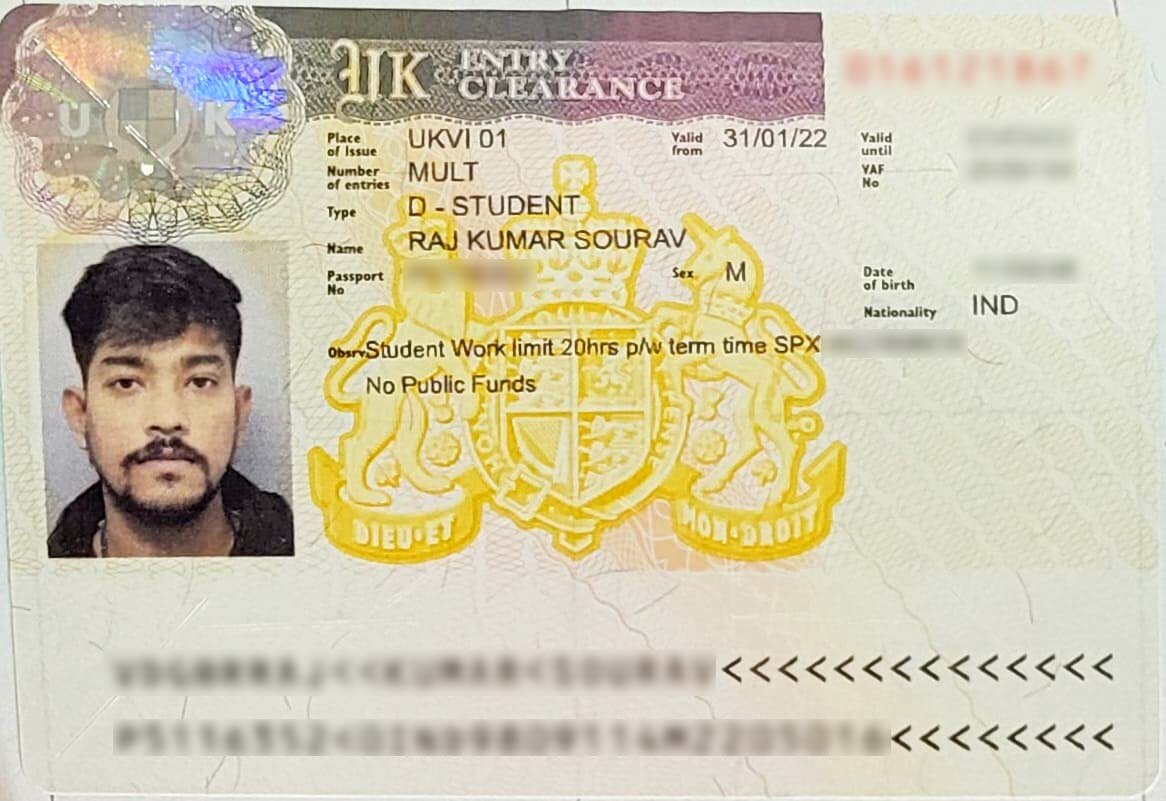 Raj Kumar Sourav
University Of South Wales, UK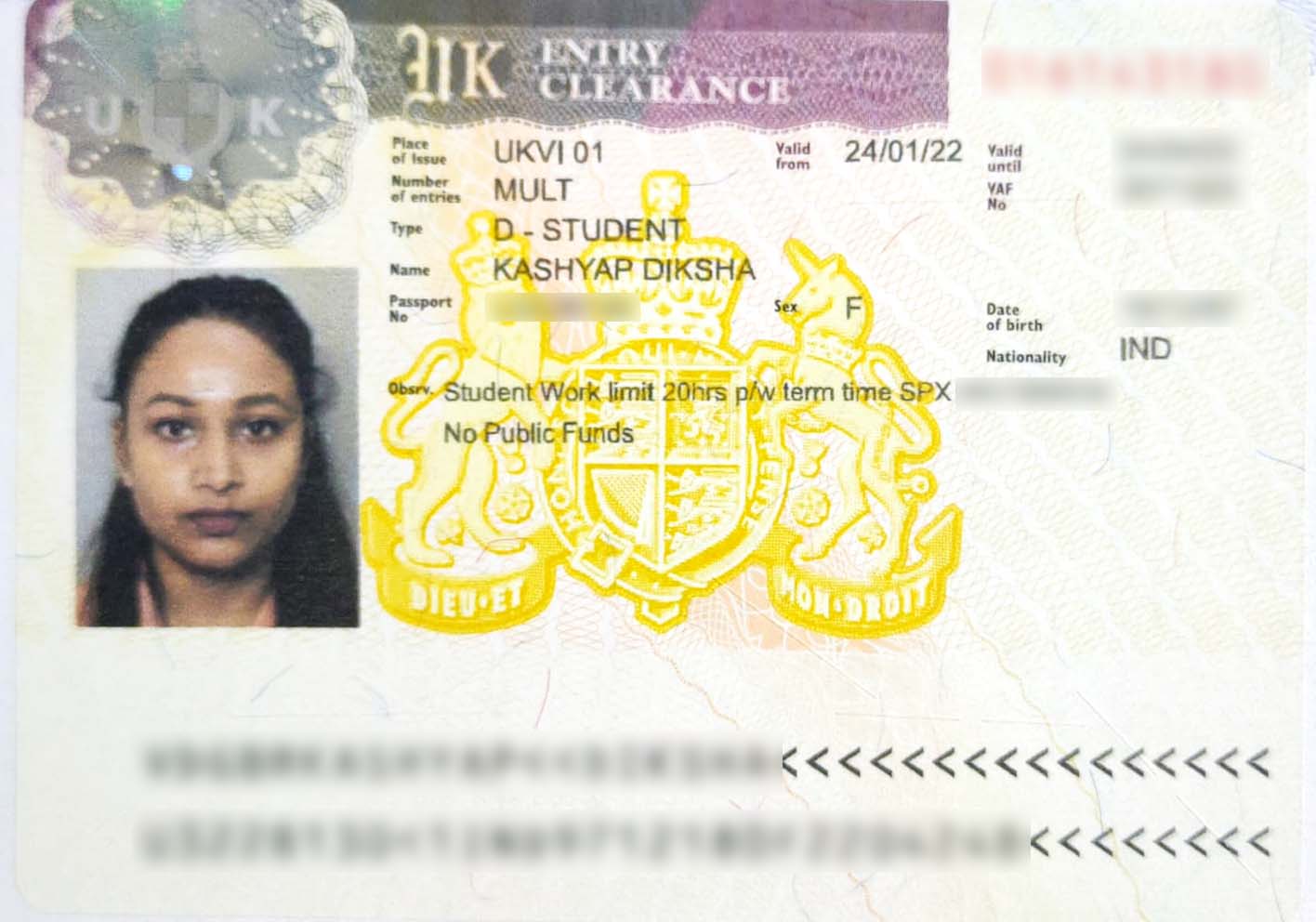 Kashyap Diksha
University Of South Wales, UK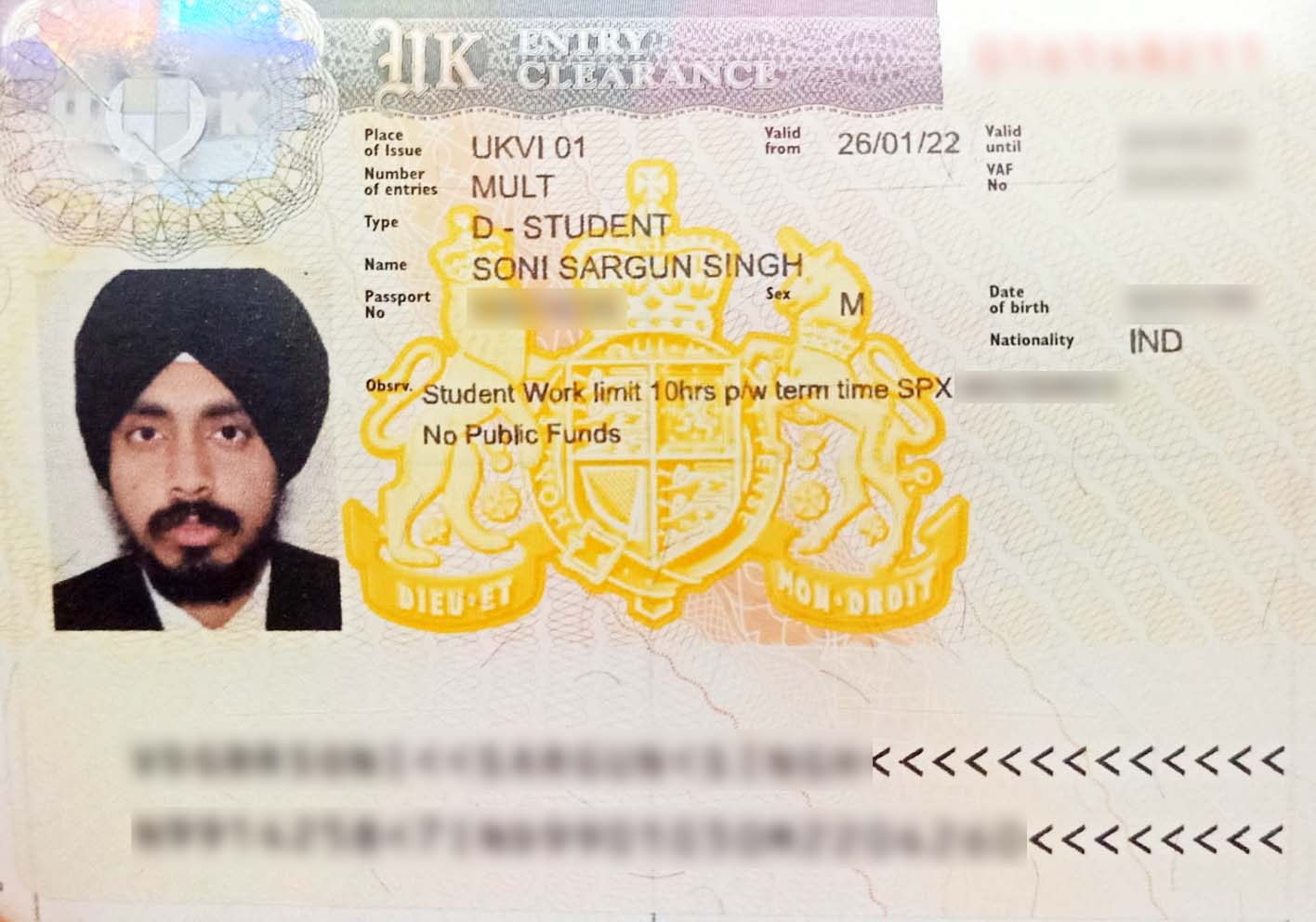 Soni Sargun Singh
University Of South Wales, UK
Hirani Hiten Amar
University Of South Wales, UK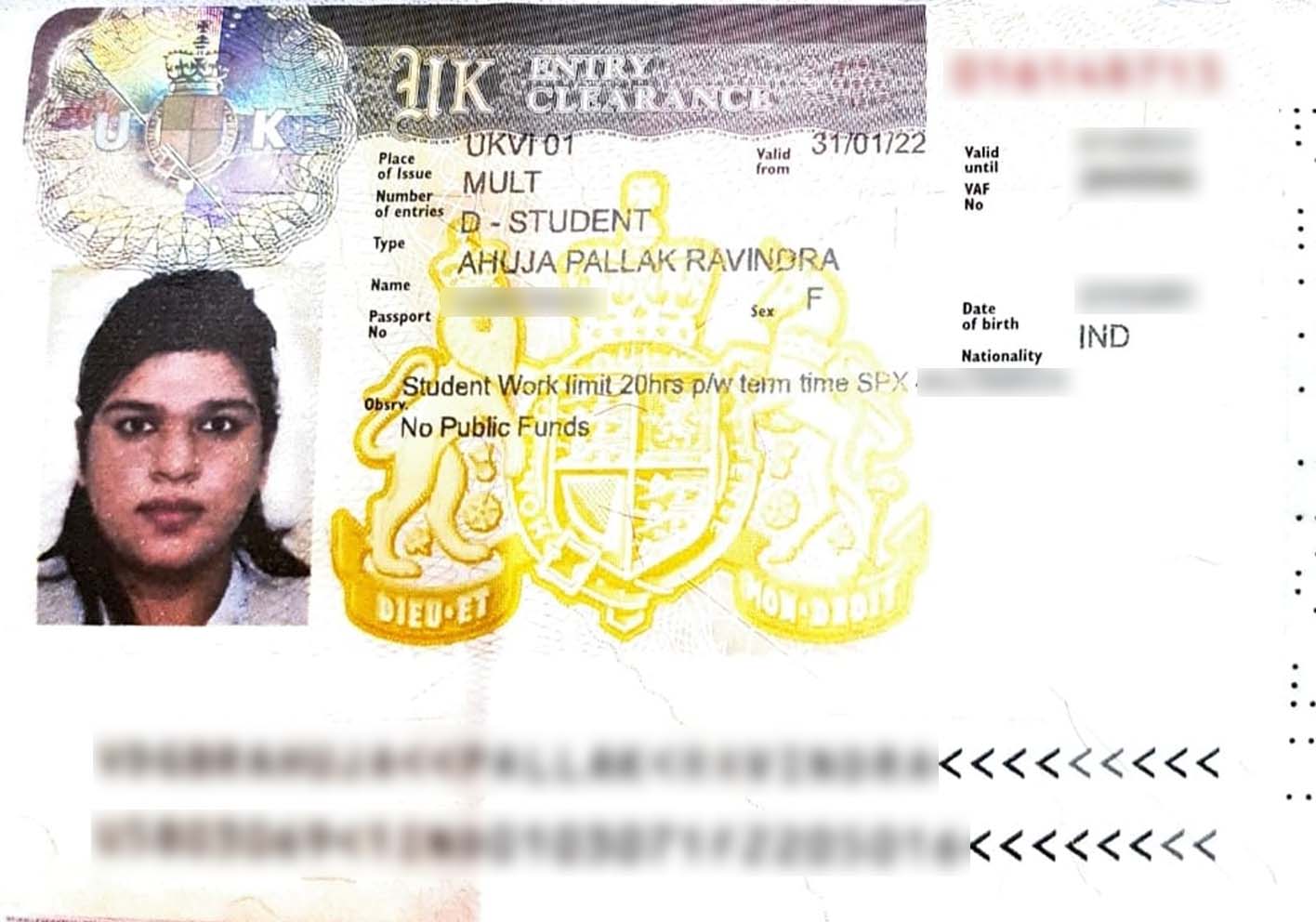 Ahuja Pallak Ravindra
University Of South Wales, UK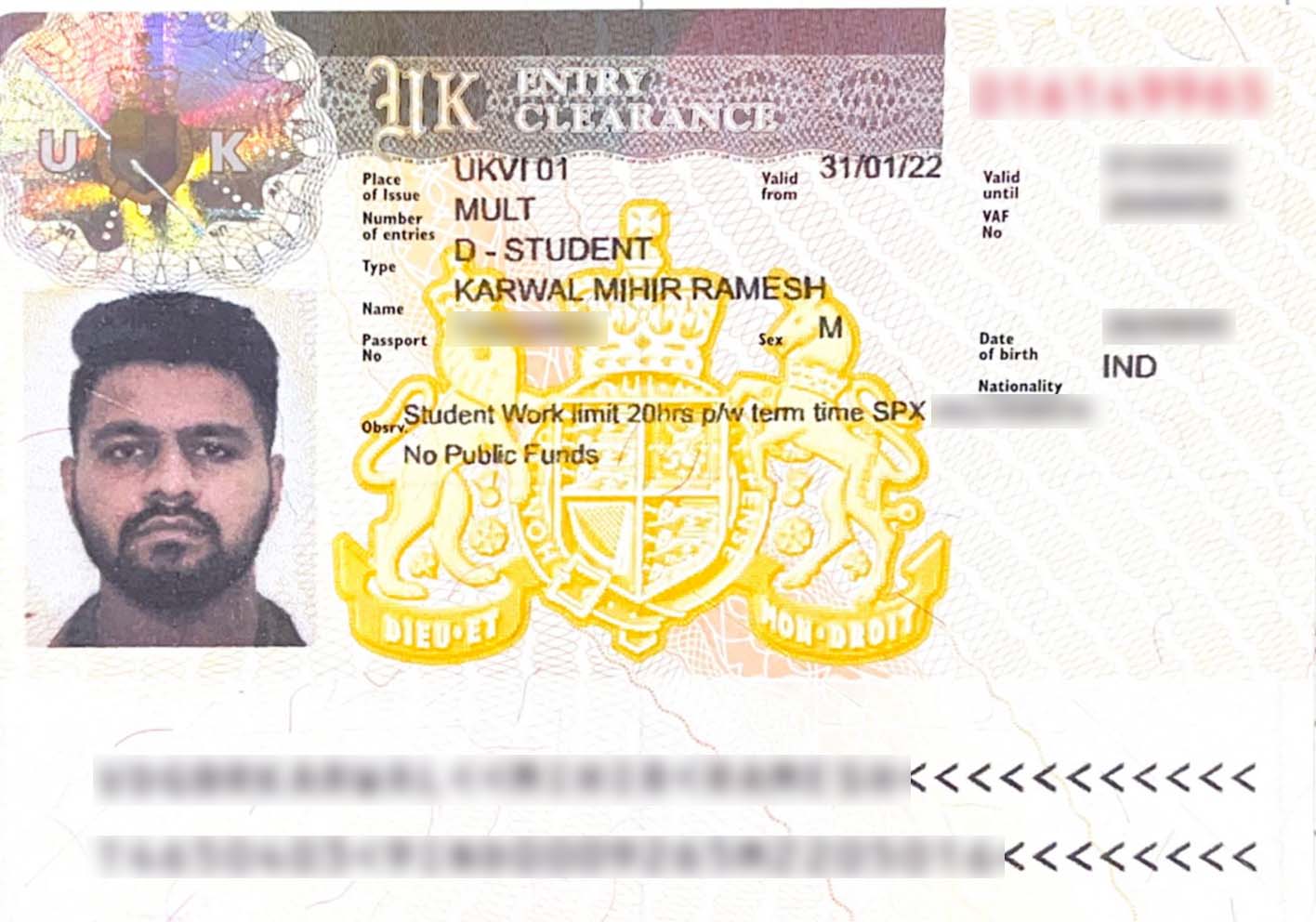 Karwal Mihir Ramesh
University Of South Wales, UK

Lexicon MILE Students at USW, UK
Lexicon MILE gives you full exposure to a global curriculum in the different fields of business you are interested in.
With students from all across the globe, University of South Wales,UK is an incredible University with students from diverse culture & background.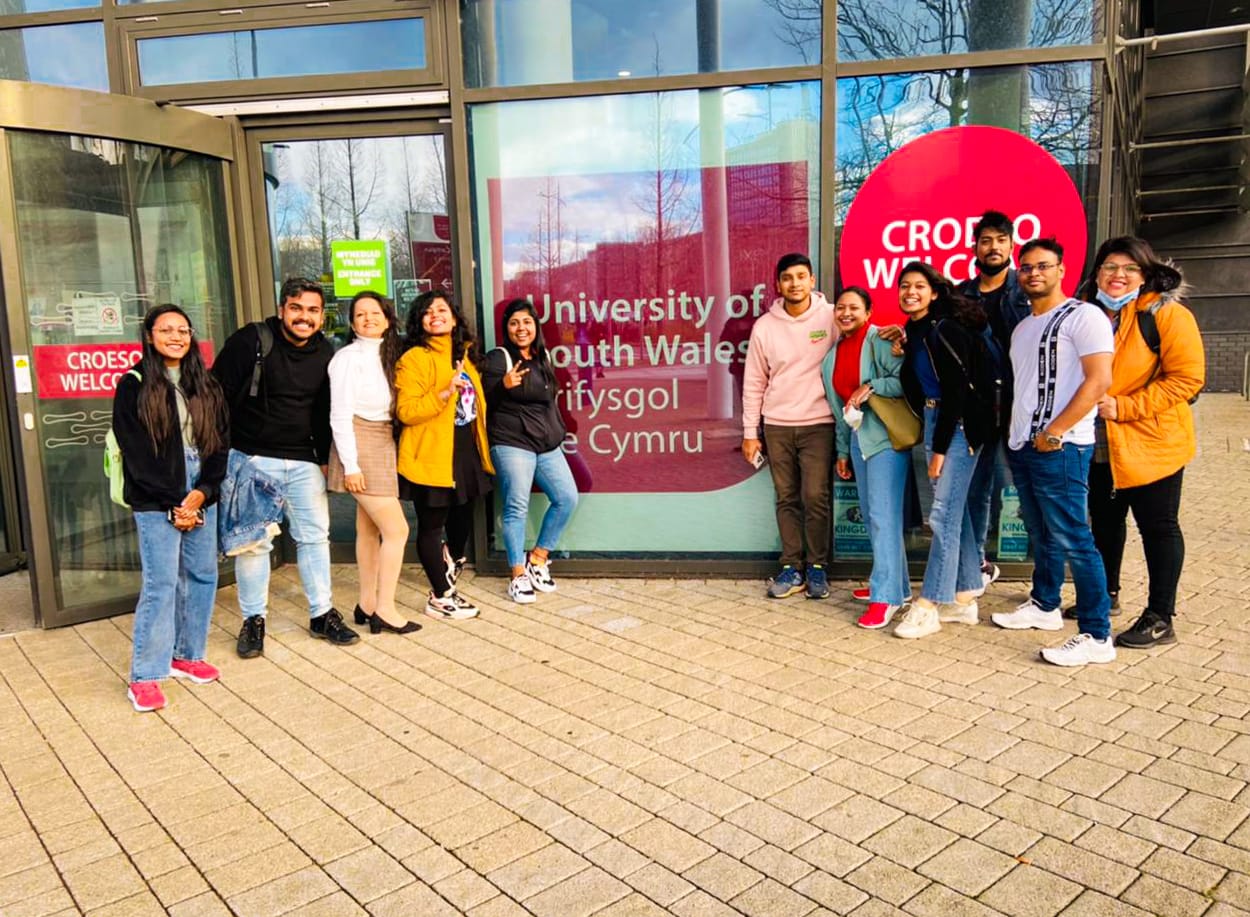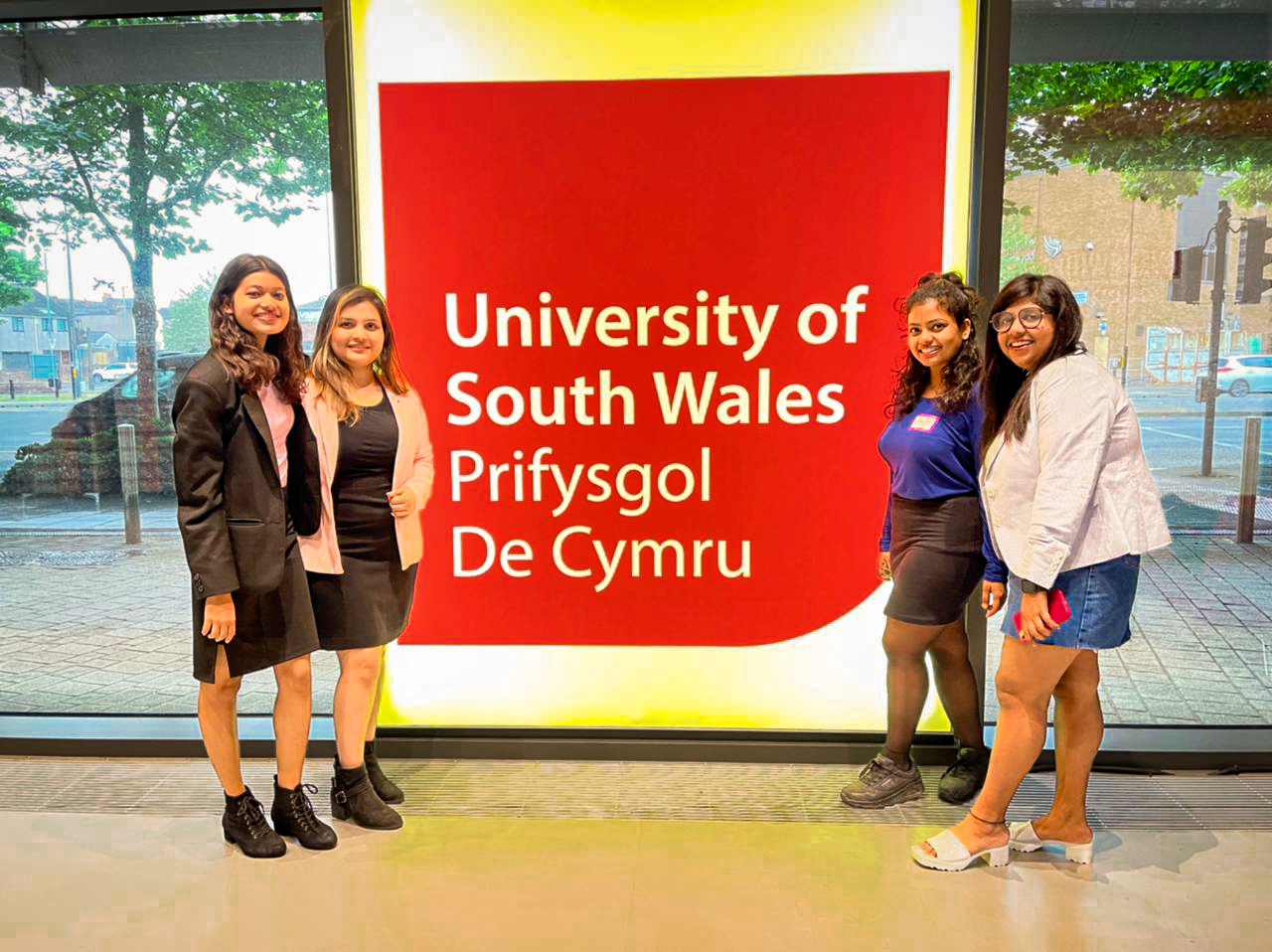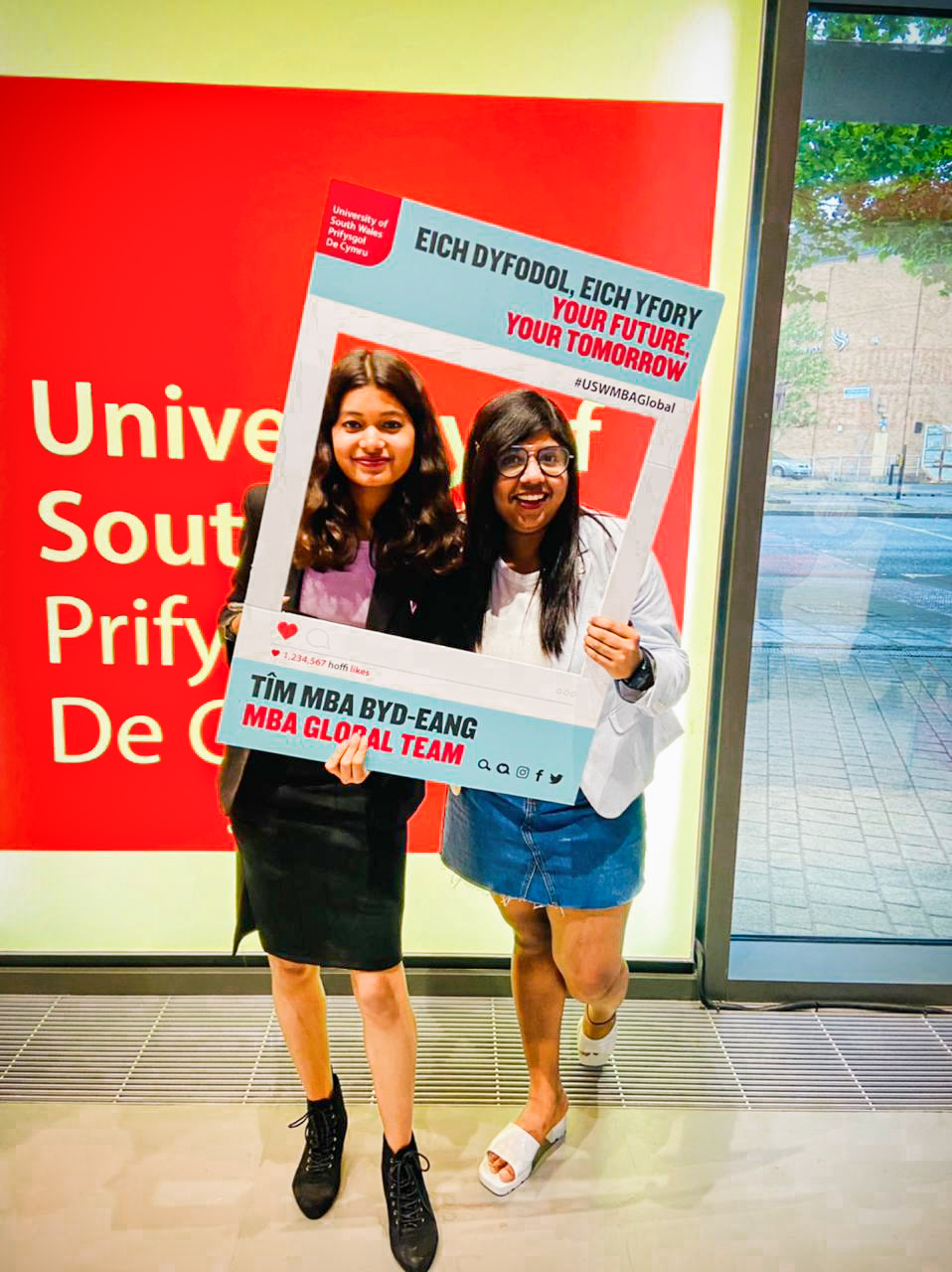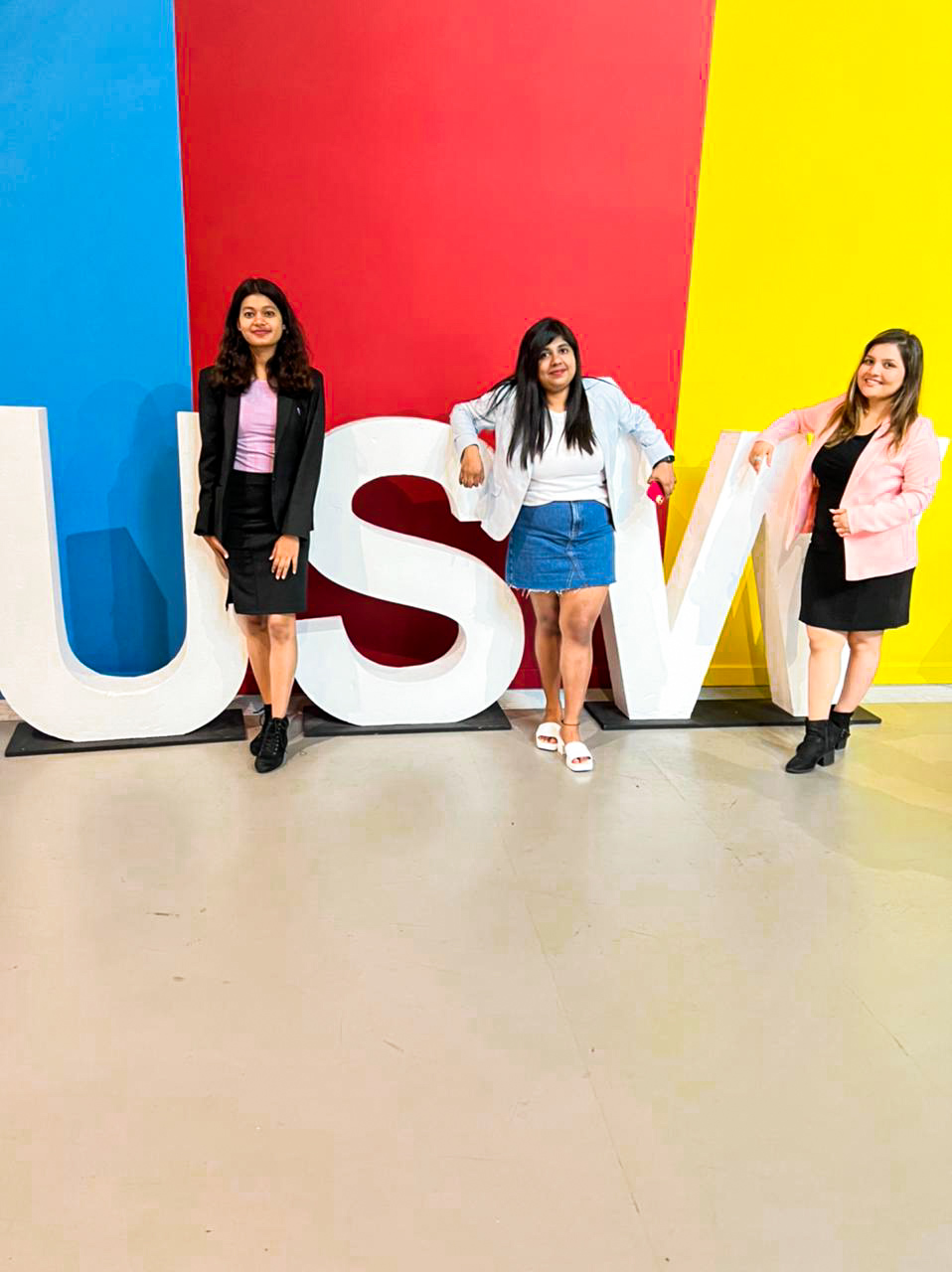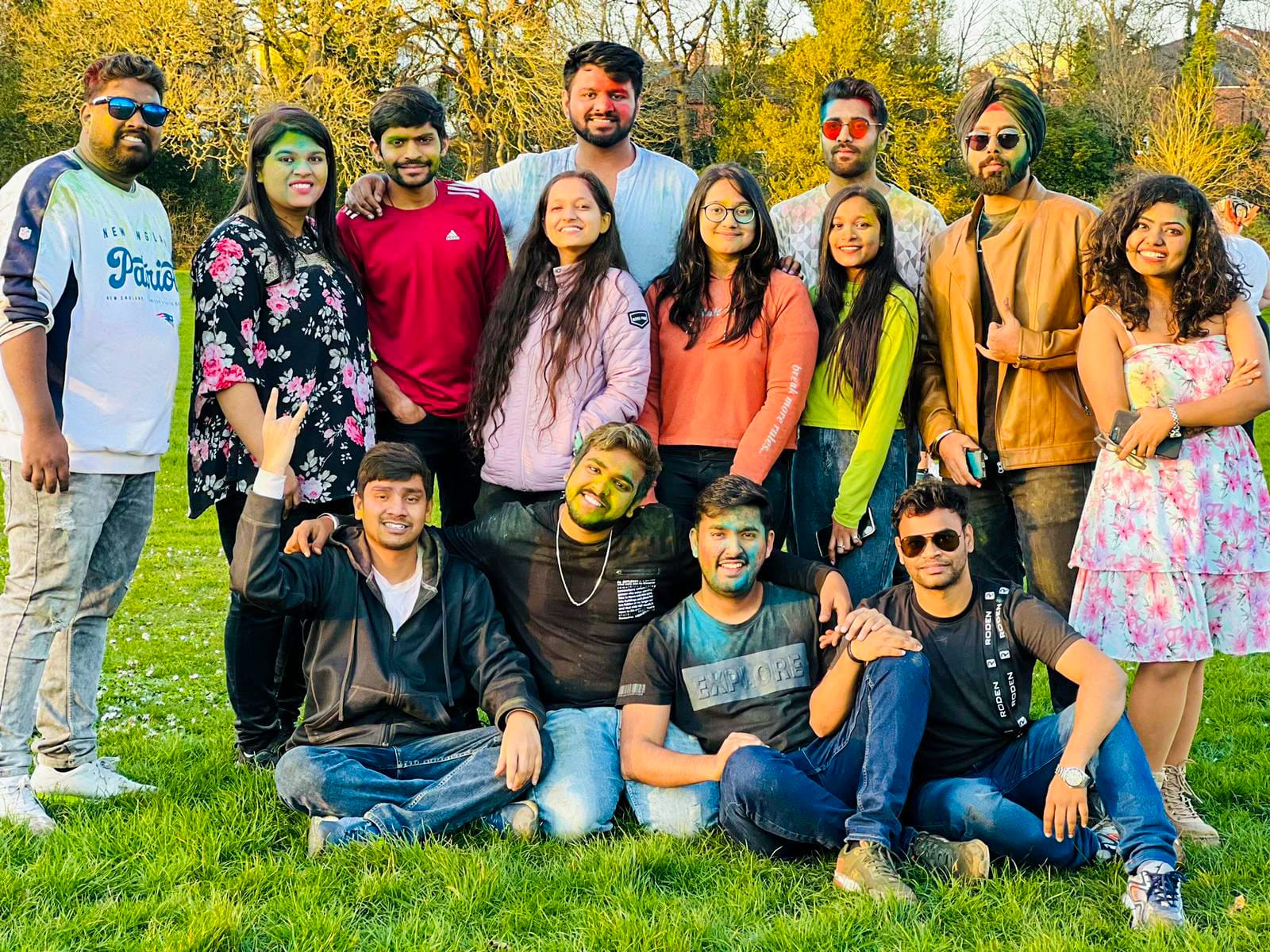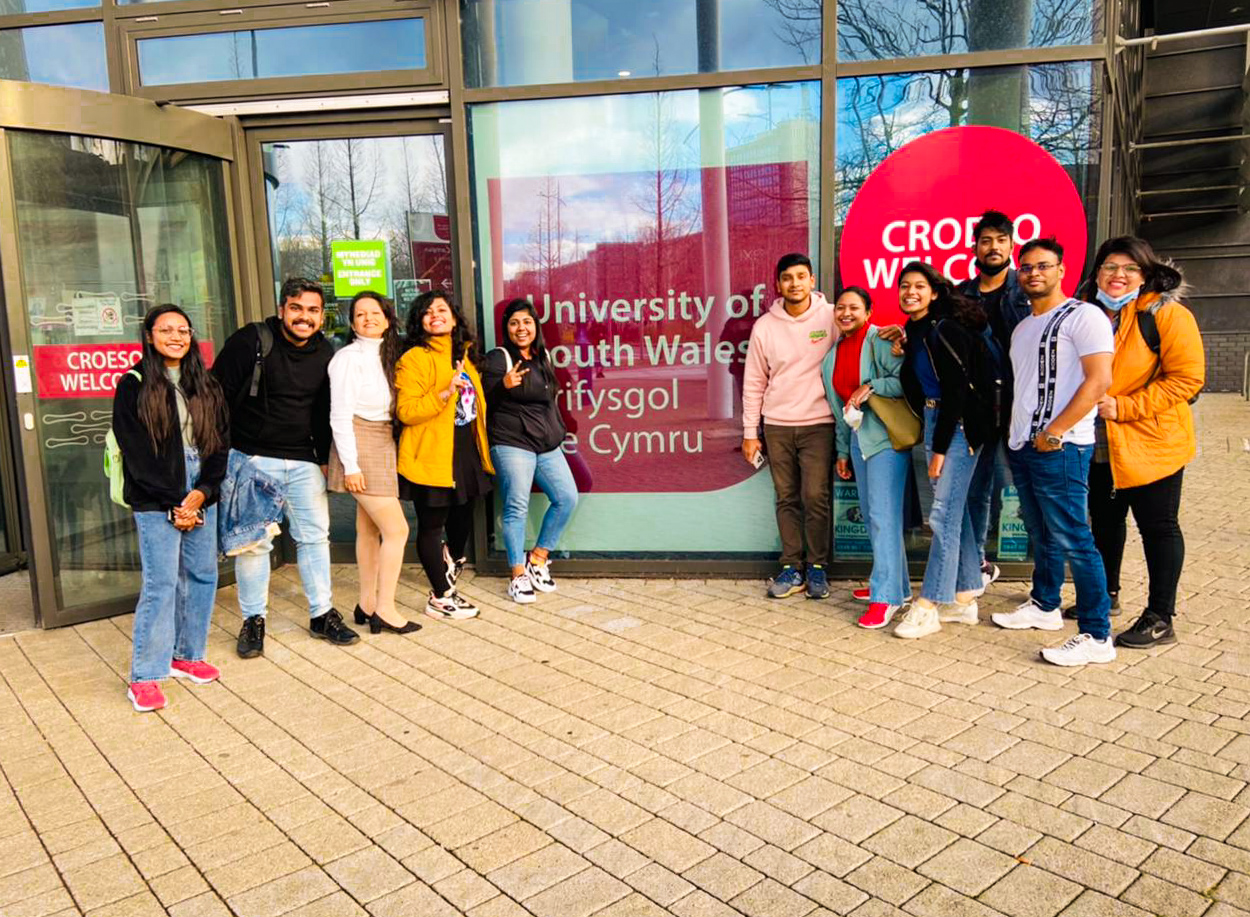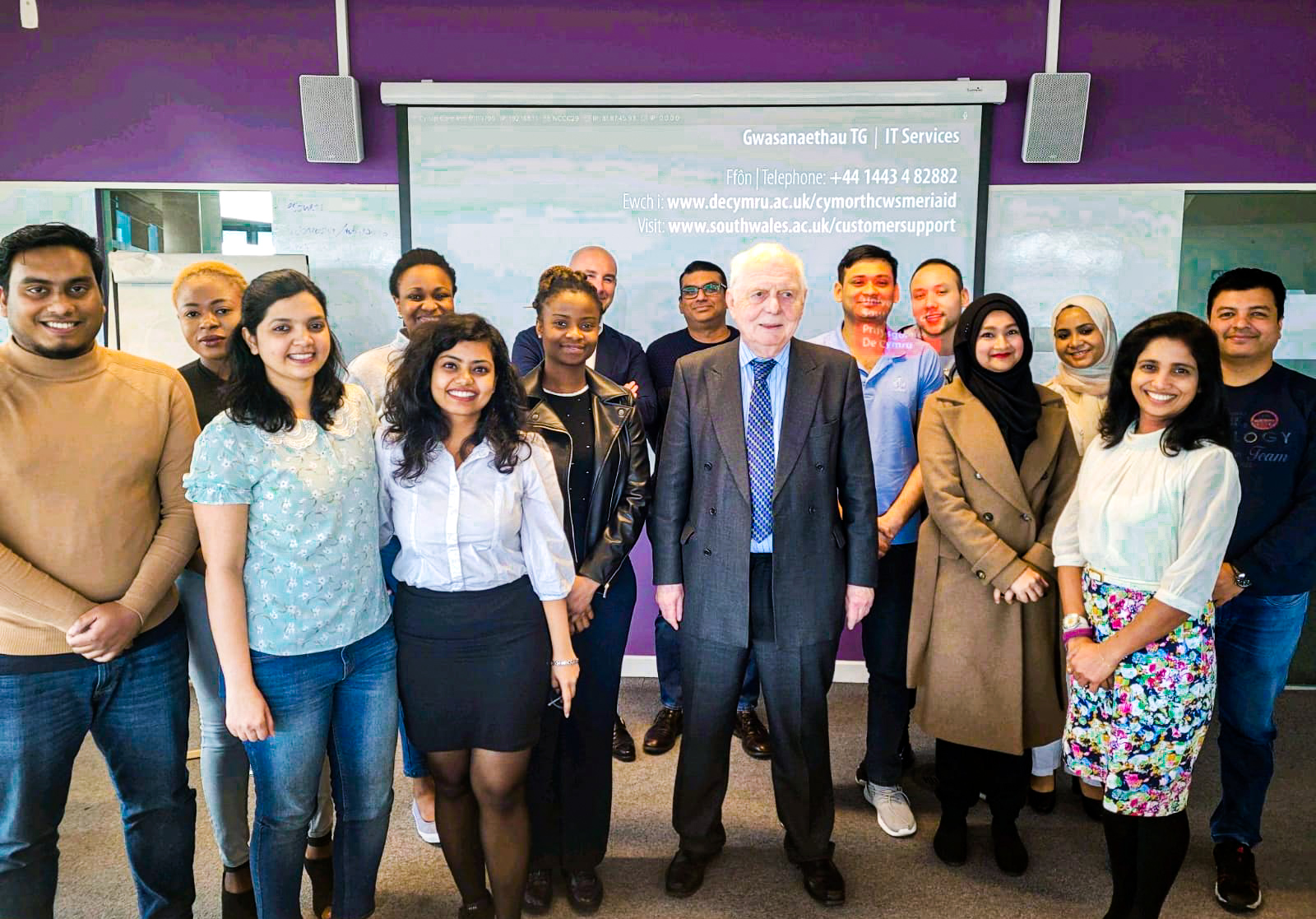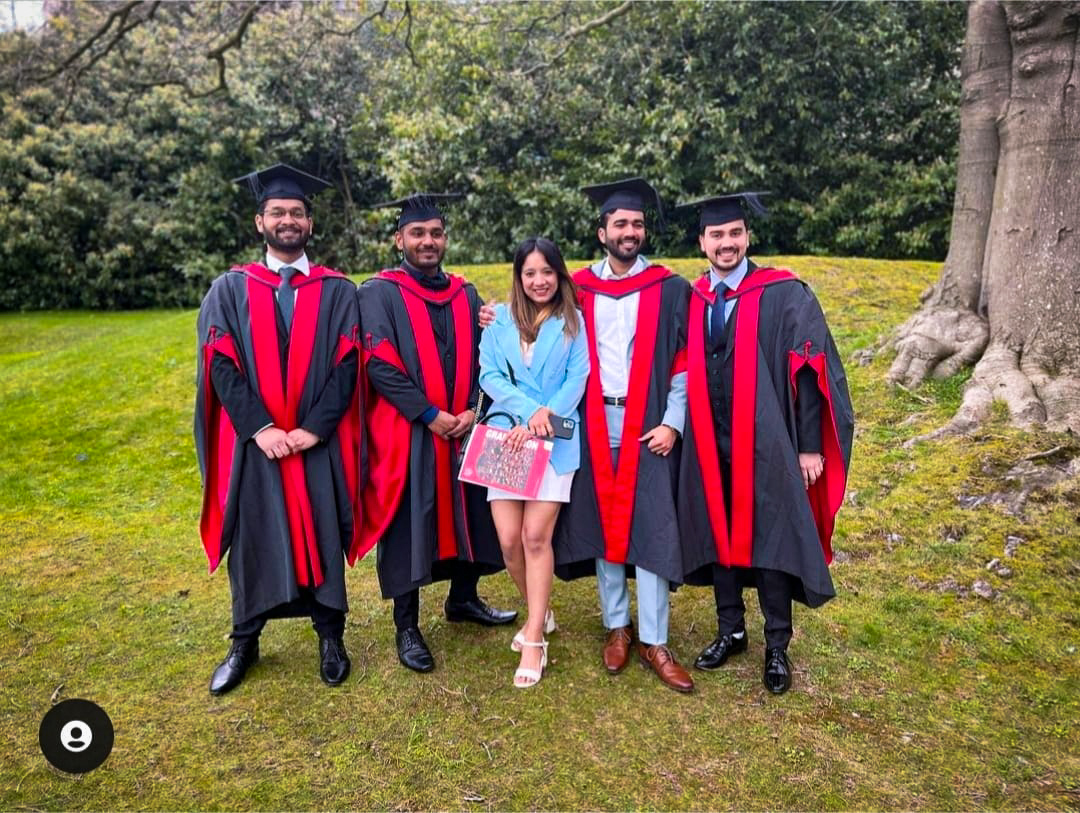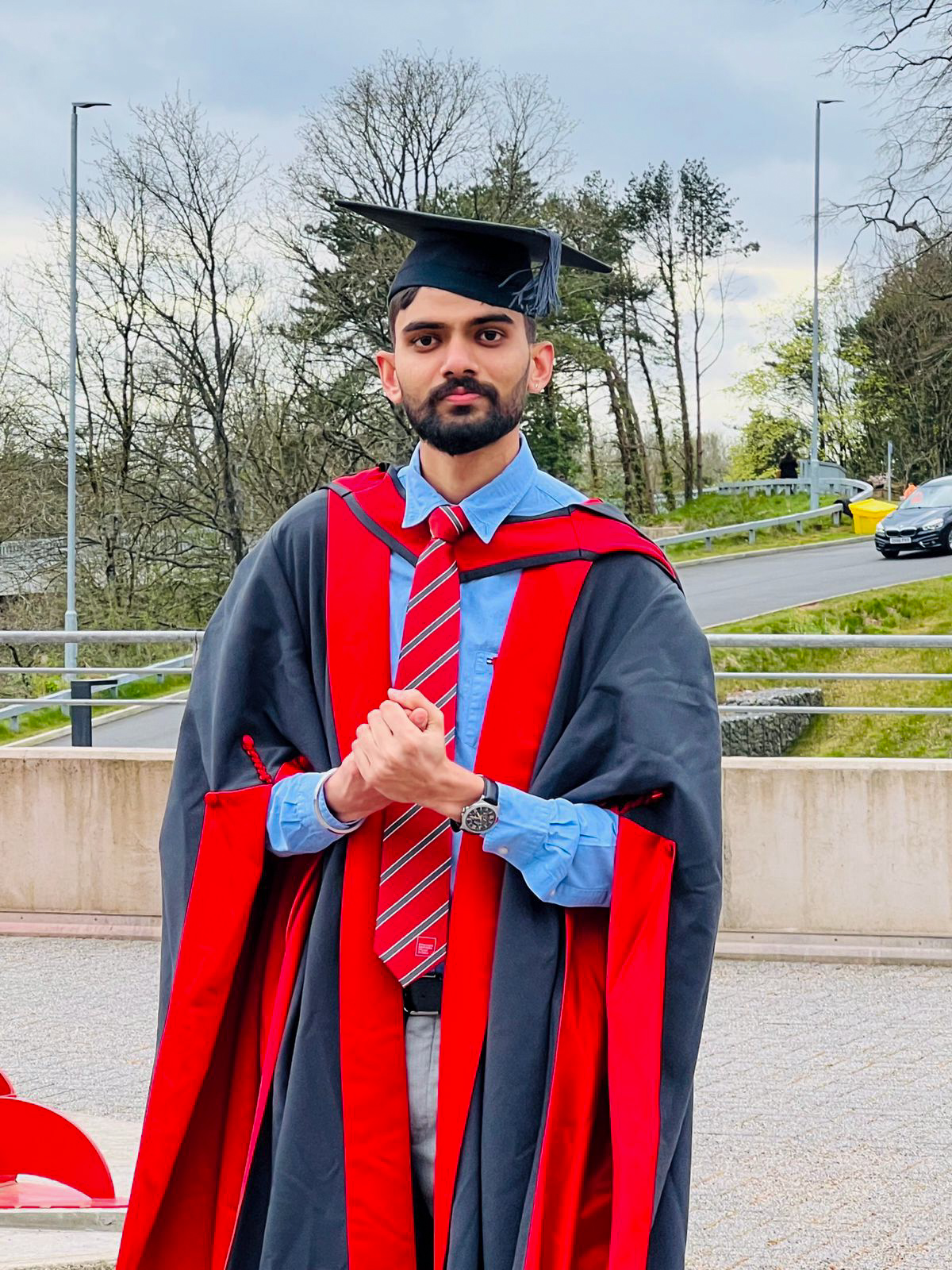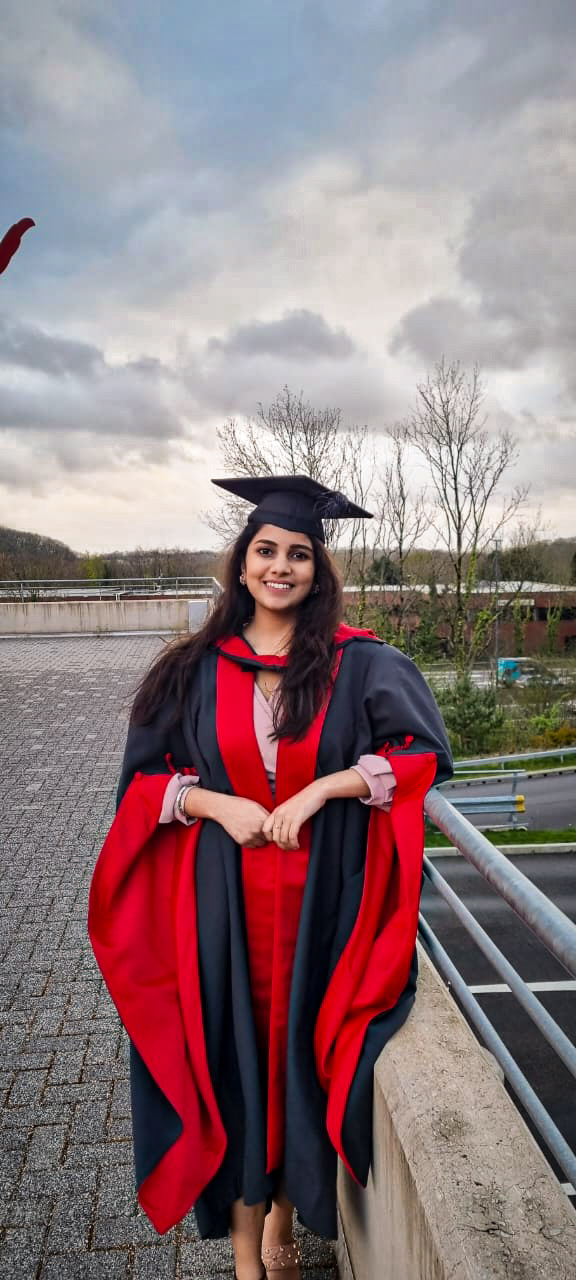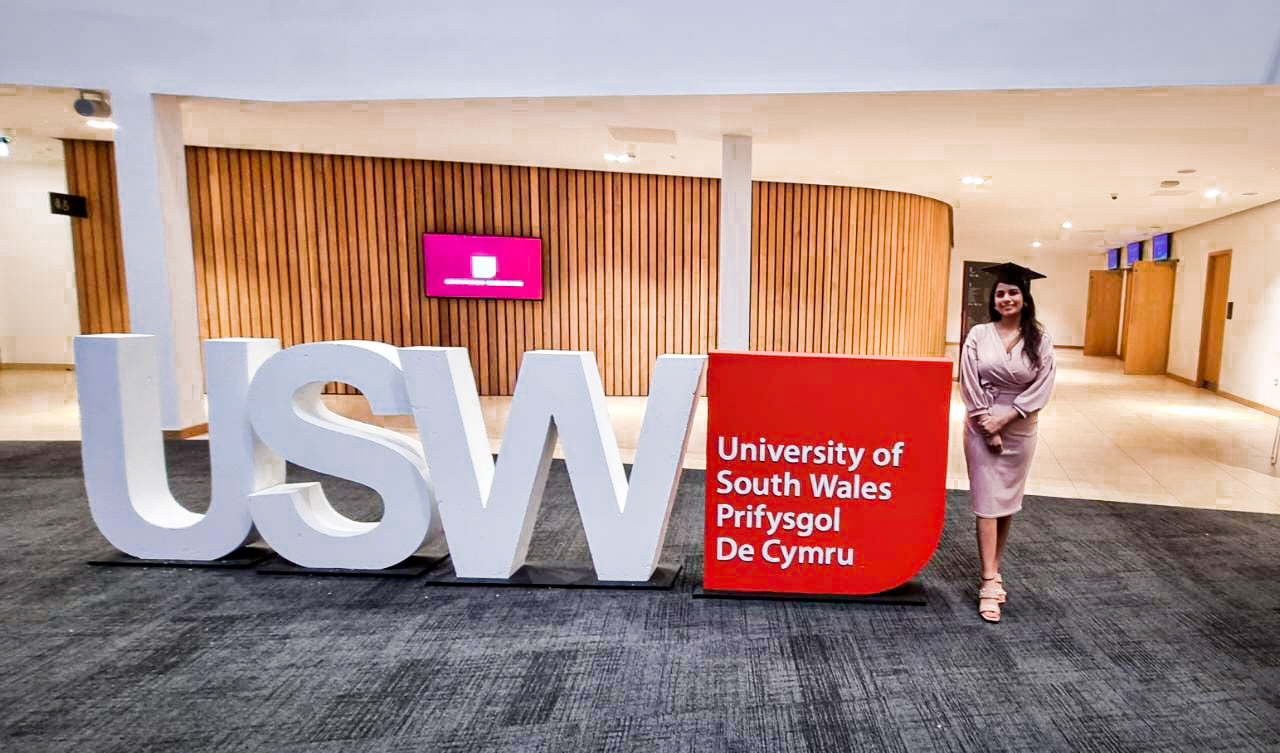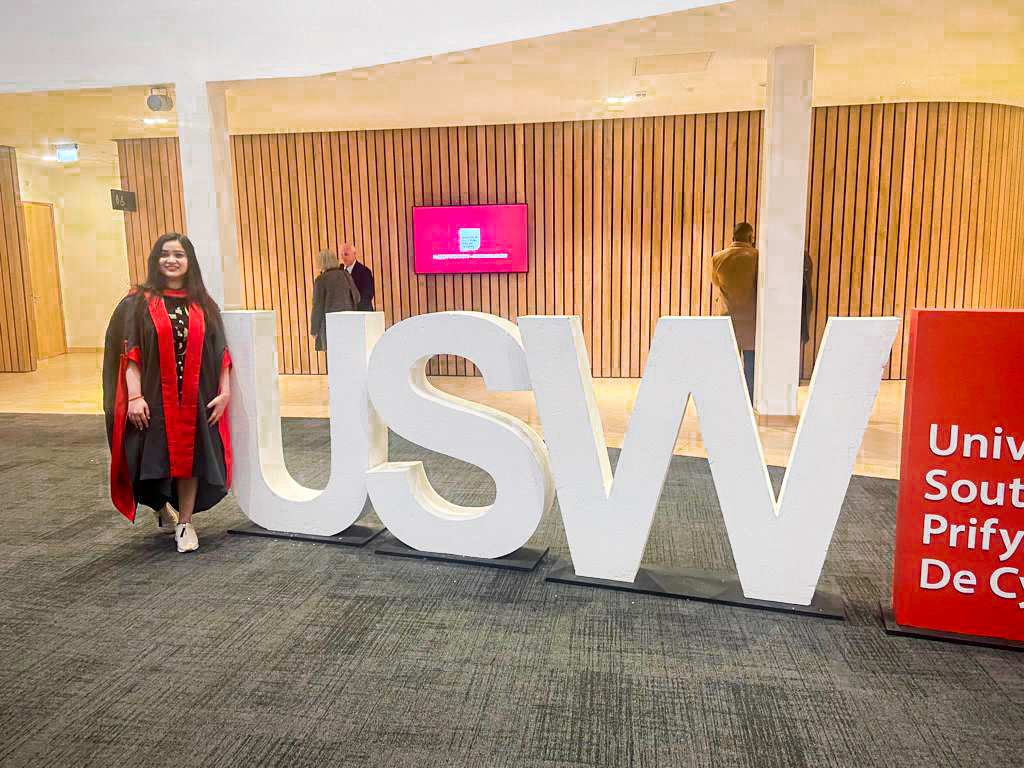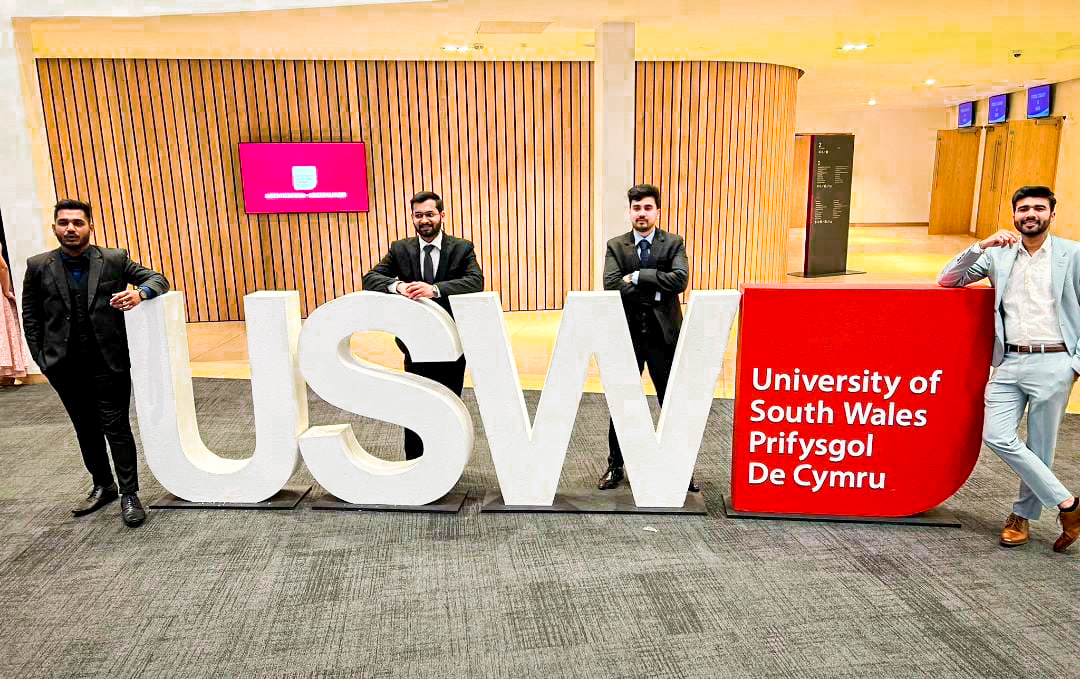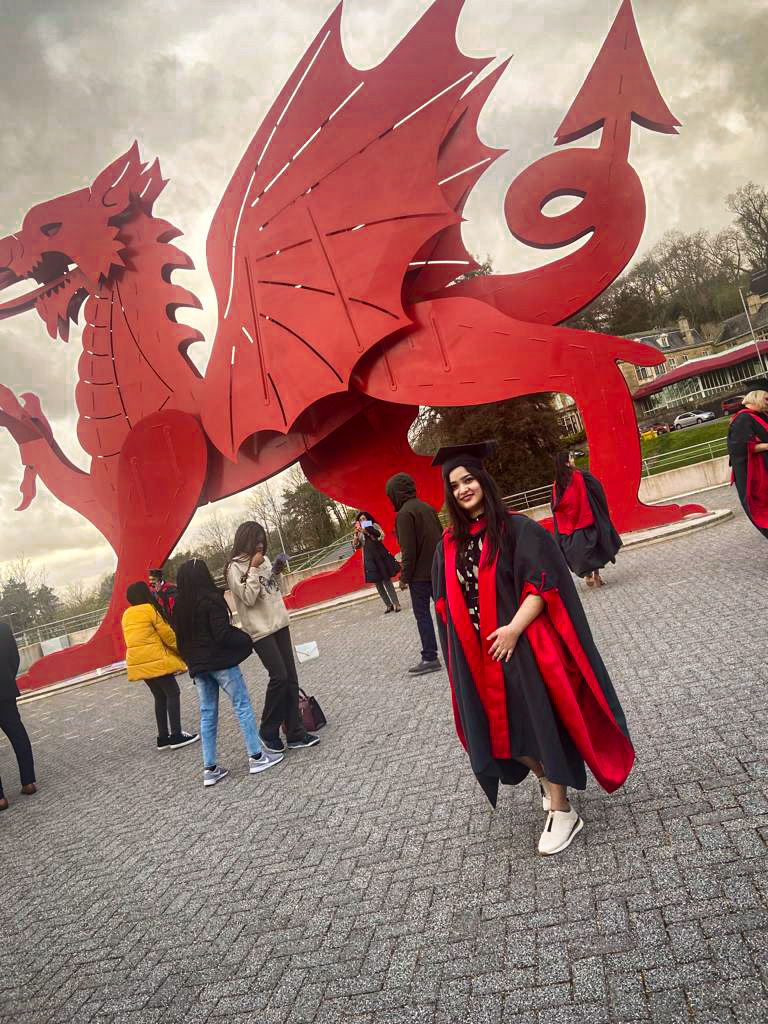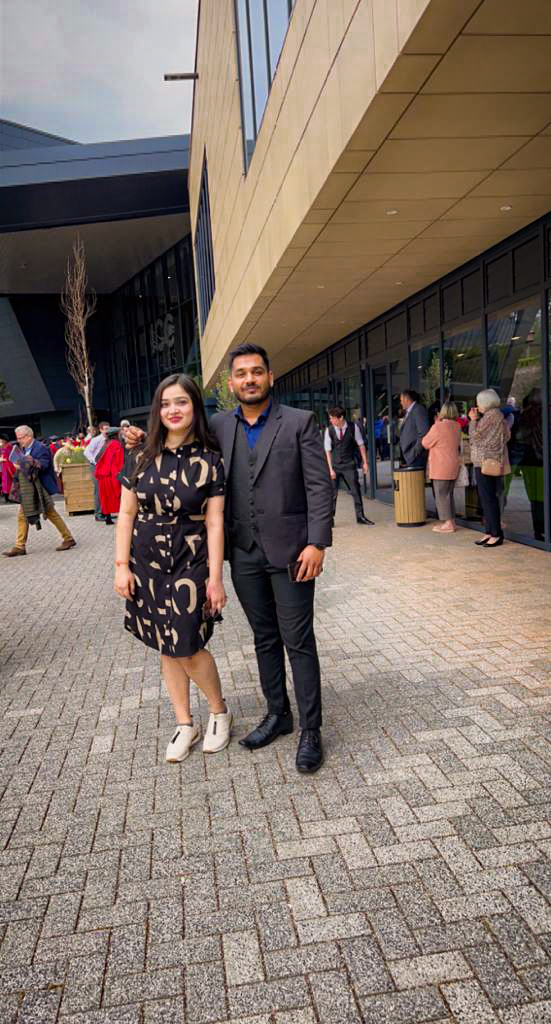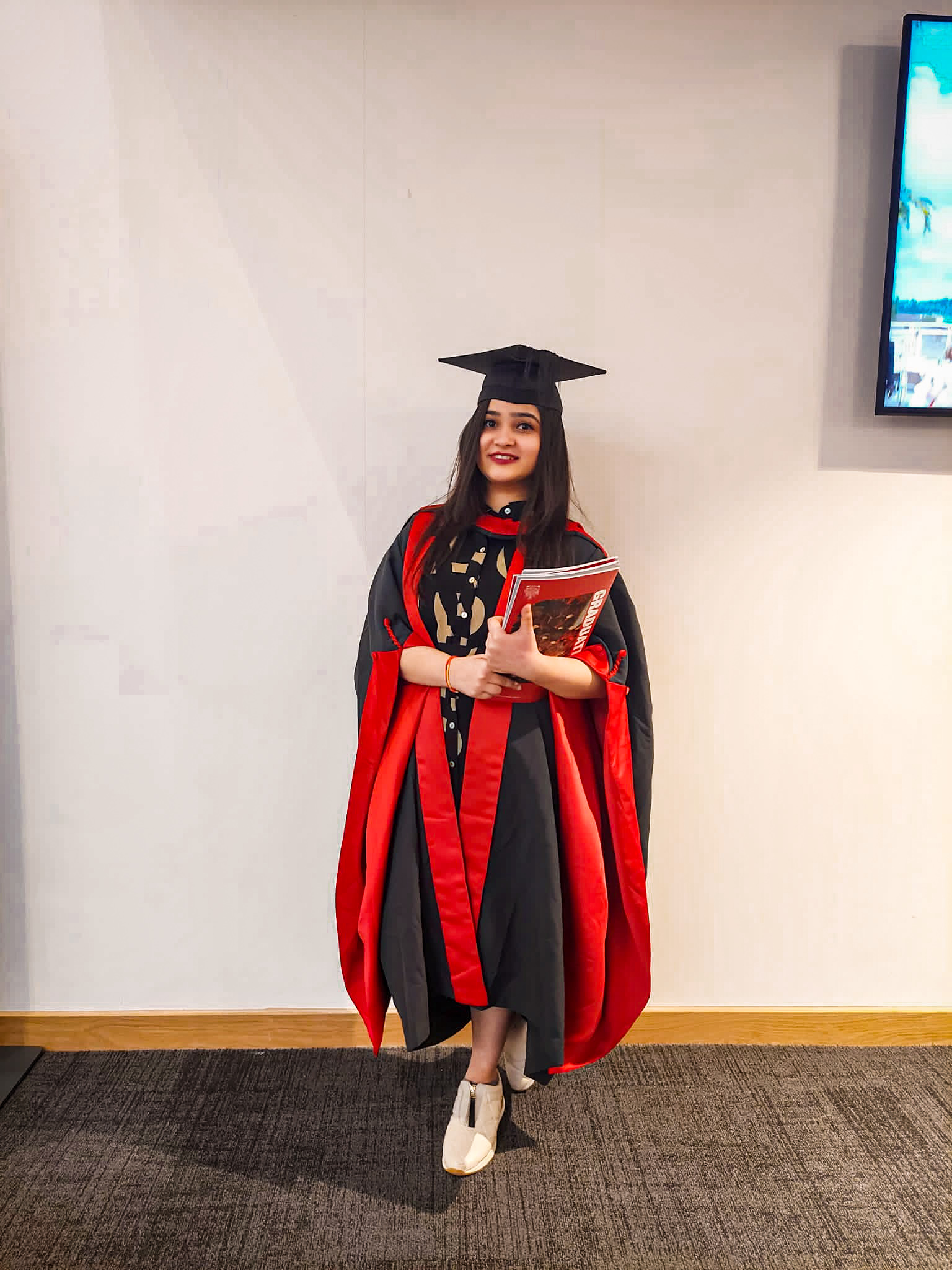 Student Testimonials (GMBA)
Sample Degree