Here's The Overall Curriculum That Top Colleges Offer Under Their PGDM Courses And What to Expect.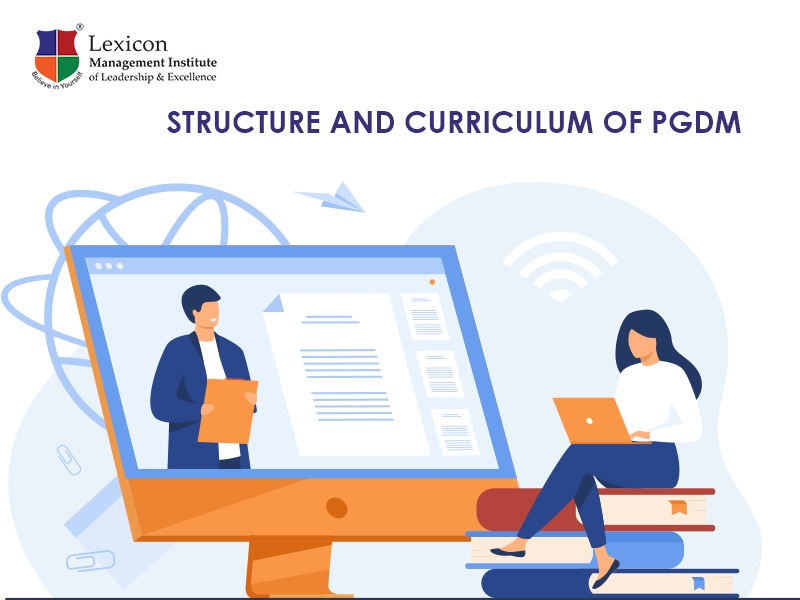 Let's start with what to do? You can slow down in the moving world and choose for yourself what you want to do. The fresh talent of our country is in great need of a light in the dark tunnel. After graduation, you would want to earn but stop right there. To earn good, you will need an extra certification or degree to earn that little extra. So, what can you do? Well, the best option for current circumstances is the Postgraduate Diploma in Management or PGDM course. It is a postgraduate diploma in management. This course is particularly designed for students who want to improve their practical and managerial skills. This course is completely autonomous and is offered by institutes that are affiliated with the All India Council for Technical Education. The programs are business-oriented and industry-oriented and aim to help the students reach a higher hierarchy in the management Field.
The PGDM courses are offered part-time and full-time as well. The speciality of the PGDM course is that it can opt to via offline, online mode, or even distance education, which seems more convenient in the time of Covid-19. Even if you have started your career, you can still apply to the PGDM course to progress in your existing career. The eligibility is easily achievable yet the curriculum needs quite a bit of hard work to ace in the course. You must decide beforehand as to what specialization you want to pursue and thereafter decide the college. A lot of colleges claim to provide different specialization but they are not able to design the curriculum accordingly. So, the PGDM course has been divided into 2 types of subjects. The first set is the compulsory set of subjects and the other one is the elective set of subjects. It also varies according to the course you opt for as there are 2-year PGDM courses and 1-year PGDM courses. So here is a basic structure of the curriculum.
Semester 1 –Organizational Behavior (I), Business Ethics, Understanding People in Organization, Managerial Economics (Micro Economics), Managerial Accounting and Control (I), Quantitative Techniques (I), Business Communication, Operations Management (I), Corporate Finance (I), Data Analysis.
Semester 2 –Financial Management (I), Macroeconomics, Managerial Accounting and Control (II), Marketing Management (II), Quantitative Techniques (II), Corporate Finance (II), Marketing research and Research Methodology, Organizational Behavior (II), Knowledge Seminar.
Semester 3 –Financial Management (II), Human Resource Management, Management Information Systems, Marketing Management (II), Research Method Advance, Operations Management (II), Business Law, Financial Reporting and analysis.
Semester 4 –Strategic Management, Business Environment (Indian and World Economy), and elective subjects.
The PGDM course is popular for its wide variety of specializations and electives. Different Colleges have come up with different and unique specializations due to the flexible nature of the curriculum. So here is the curriculum of the specialization subject-wise:
Finance – Security Analysis and Portfolio Management, Risk and Insurance Management, Corporate Valuation, Merger and Acquisitions, Taxation and Tax Planning, Derivatives and Equity Research, Bank Performance Analysis, Financial Engineering, Fixed Income Markets, Management Control Systems, Strategic Financial Management, Business Analysis and Valuation, Treasury Management, Project Appraisal and financing, Retail Banking, Advance Equity Research, Micro-Finance, Merchant Banking and Financial Services, International Finance, Behavioral finance, and portfolio management.
Operations – Project Management, Services Operations, Advanced Operations Research, Supply chain management, Advanced data analysis, Quantitative models for logistics and transportation management, Business process Modelling, Service and Quality management, and Technology and Innovation management.
Marketing – Consumer Behavior, Product and brand management, services marketing, business to business marketing, sales and distribution management, new product development, international marketing, advertising and sales promotions, managing marketing communication, retails management, customer relationship, rural marketing, internet marketing, advance marketing research, marketing analytics, sustainable macro marketing, Product and brand management.
Human Resource – Organization Development and Change, Building and leading effective terms, strategic human resource management and international perspective, managerial excellence, negotiations management, Workplace learning and development, compensation management, organization management, advanced recruitment and selection, performance management, human resource analytics, talent management.
General and Strategy – Merger, acquisition and corporate restructuring, entrepreneurship and venture capital finance, business valuation, competitive strategy, IPR Law and management, international business, statistics primer for analytics, strategic management, business negotiation skills, business landscape.
These are only a few specializations amongst the many. The basic structure is a 2-years PGDM course and 4 semesters. In most of the colleges and institutes, there are internships and projects either in the 3rd semester or 4th semester. Let's have a look at those:
Projects:The Projects are allotted to study and research a particular organizational characteristic or sector. It can be a comparison study or elongation of specific topics. Usually, the projects given are of research work that involves intensive research on any chosen topic. There has to be a particular format for the project, which is instructed by the institution itself. The common structure involves an introduction, background, methodology, conclusions and recommendations, limitations in case if any, acknowledgement, content page, and bibliography. At some institutes, the viva is also conducted on the project.
Internships:This is one of the best things that the PGDM course offers. The Internships provide students with an opportunity to have good exposure to the work environment, work culture, and real-life experience of working incorporates. The students do learn theoretical and conceptual skills in the program's first semesters, yet are unaware of using them in actual circumstances. These internships help you to develop decision-making skills. Usually, these internships are for 5-8 weeks but vary from institution to institution.
Other than this, you can expect an experience of a lifetime. The course is developed to be experimented on which gives it the leverage of learning new and different things especially when it comes to industry-based experience. As the institutes can mend their ways, they only create the best for you. Even if you are a student or a working person, the platform provides equal opportunity and learning to everyone. Also, prepare yourself to face any obstacles and overcome the tough, this will improve your stability in the management field. You know yourself and you know where you can excel, that is all that you need to enroll yourself. Make sure you choose the correct specializations and keep working towards the higher aim, nothing can stop you from achieving your dreams.