How Lexicon MILE is leading in creating employment opportunities with specialization in Business analytics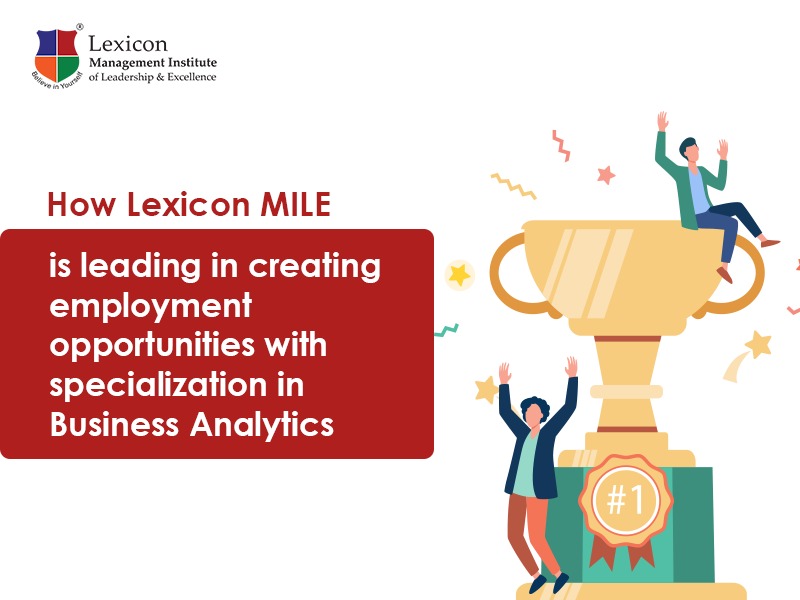 We find it so difficult to find that one suitable job that we wish to take our career in. It has been getting difficult over the years to get into the desired career path. Firstly to decide which industry is more suited and then which institute can provide the right opportunities. With good research, one such institute is the Lexicon Management institute of leadership and excellence. An establishment since 2009, Lexicon MILE has curated a varied range of courses for post-graduate diploma in management, certificate programs, training and different programs. Lexicon MILE has developed an ideal and conducive environment especially for their courses like PGDM, Global MBA, International MBA/MS, and PGCM. They provide a two-year full-time course for which is a legacy of the Lexicon group of institutes. Lexicon MILE is affiliated by All India Council for Technical Education and has partnered with universities like The University of South Wales and University of New Haven.
In a really short period of time, Lexicon MILE has come a long way. It has committed to its approach of one student at a time and served communities by recognizing diversity of Indians. They have a large and exclusive pool of faculty which is experienced in corporate and top of academics. Lexicon MILE has created home for their PGDM students for 2 years, which on campus hostels and food arrangements. They have an active training of practical demonstrations which helps the students to imbibe learnings. They have different tools and techniques like case studies, new analysis, discussions, problem-solving sessions, and live field projects with theoretical impressions to mould their students to build a real-world ready personality.
Lexicon has been awarded with The Best Emerging B-School, World's Greatest Brand, and Best Management Institute for Placement. They conduct various workshops, corporate workshops, industrial visits and on-campus internships with stipends. Lexicon MILE is known for its environment and social sensitivity. As they say and believe, they are always for their students during the course and after the course, this helps the students to be relieved about their career path. There is one specific specialisation that adds to why Lexicon is different and unique from other institutes, which is Business Analytics.
Business Analytics is a process by which businesses use statistical tools and techniques for analysing historical data in order to have new perspectives and insights to improve strategic decision making. It has different tools and techniques like data aggregation, data mining, forecasting, association and sequence identification, optimization, which helps the business grow. Now you must be wondering, why should you pursue a career in business analytics? Well, here are a few reasons:
The Analytics industry is growing really fast. It creates about 2 billion revenue every year. The analytics industry helps the businesses as well as corporate to make more informed decisions.
Studying business analysis makes you a key ingredient in taking managerial decisions. And helps the organization to improve operational efficiency.
Business analytics will help you learn how to capitalize on the data, helping the business grow better and in a steady way.
As business analysis provides a clear picture of the future, it helps to inspire change and innovation by answering questions about and of your clientele.
Most importantly, if you are looking for becoming an entrepreneur, business analytics will help you to minimize risks as it helps a business make correct choices regarding consumer behaviour, trends and performance.
Also, if you want to earn good remuneration, business analysis will provide you with it. The sector has diverse jobs profiles which offer good salaried packages with improved programming and problem-solving skills.
So, what exactly can you become after pursuing post-graduation in business analysis? You can become data analyst or data scientist, business intelligence analyst, big data analytics specialists, management analyst or consultant, marketing manager, operations research research analyst and market research analyst. And how exactly will you pursue Business analytics and how can you go on to the correct path? You can pursue your post-graduation from Lexicon MILE and opt for business analytics as your specialization. As the institute has developed its courses in such a way that they create industry ready graduates which helps the students to prove their worth in the real business world. Not only that but over a period of time, Lexicon MILE has a track-record of 100% placements which gives a relive. With placements, students can also go for on-campus internships which will add up to your resume and give more value.
At Lexicon MILE, students are equally trained for hard and soft skills which are of utmost in today's market. Alumni of Lexicon MILE are the perfect answer to all your questions related to placements. They have come up with the best job profiles and roles that can really boost your career path to the next level like statistician, financial manager, and business operations manager. At last, Business analytics require skills like critical thinking, problem-solving, communication, curiosity, detail- orientation, and programming skills which are inculcated in the curriculum of the Lexicon MILE as it is curate by the top and experienced professionals of the industry and academics who know the business world inside out.
Lexicon MILE has dual specialization programs which widens your career path and chance of opportunities. Even though Business analytics is a new field of study, it has become a very important part of companies and business to run and conduct. It would be absolutely right to say that this line of field is a relevant addition to business and institutes as it provides a beneficial career path, and Lexicon MILE will provide you with just that. They have tie-ups with industries best companies like ICICI, Times Group, TIAA, Kotak Mahindra, IDBI bank, ZS associates, Godrej Properties, Fab hotels, OYO and FOYR and many more, who are best of the best in their respective industries.
Alas, you can either wait for the opportunities to knock at your doorstep or you can start your career with Lexicon MILE and work hard towards it to conquer what you have visioned for. And believe it, you will have complete attention, support and training from Lexicon. Set your foot in the global market and explore your options with your knowledge of business analysis and help grow your business in the correct way. Hope you have a great career, help contribute to society equally.