How does PDGM Help Build the Entrepreneur in you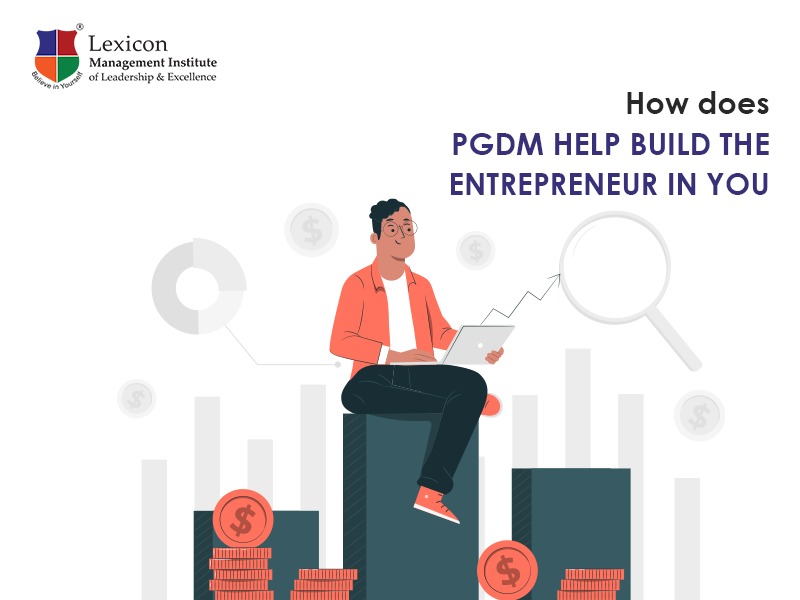 The world is growing with the global market fast advancing like a cheetah hunting in the prairies. The introduction of globalization and the world market has encouraged businesses to boom into millions or fall into bankruptcy, with the addition of a new competitor with a new edge every minute. New entrepreneurs to senior and experienced businessmen rise and fall every day. The difference in them is their practical skill and knowledge being used in the real world, as a person can only go so far with theoretical concepts or a mild understanding of the industry and the individual's field. A budding entrepreneur and working individual need to gain theoretical knowledge and practical skills to grow their business. Such skills can be acquired at the university level through management programs. Students in India have two different routes in this regard – MBA or PGDM. Most of the time these courses are mistaken to be similar, but they are not similar titles and have different approaches as well. Both are a different approach to the business industry and both are very accredited in the industry.
What is a PGDM ?
A PGDM or Post Graduate Diploma in Management is a Diploma course in Business Management. It is a diploma course and can be granted by even autonomous colleges. It is a 2-year course focusing on the intricate different aspects of management and business industries. It focuses more on practical aspects and industry-based soft skills. The curriculum is dependent on the college as they can offer additional subjects and keep their syllabus updated. This course was meant for the working professionals who wanted to enter the management field but nowadays students are also interested in it.
What is an MBA ?
An MBA or Masters in Business Administration is a postgraduate degree course in Management offered by numerous colleges and universities worldwide. It teaches the students managerial, technical, and leadership skills through focusing on the theoretical side more. Being a Master's degree, the only university-affiliated or recognized colleges can grant such degrees. The MBA colleges follow a single uniform curriculum designed across institutes for the bachelors, masters, or doctorate degrees but at a different level of depth.


Is Diploma really of a lower standard than a Degree in respect of business opportunities?
Contrary to common belief, Employers don't value a diploma lower than a degree. A student with a degree has a broader set of knowledge which is most rigid and theoretical whereas a student with a diploma has been focusing on the select field and thus has as much eligibility as a degree student.
Why does the Curriculum system matter?
The Business management industry is a very dynamic sector and it changes trends now and then. Students and working professionals are meant to be up to date with these trends. They can implement them into their work and in turn into their business. In the case of MBA, the curriculum is uniform and theoretical based for all institutes across India. Since the universities regulate the curriculum there is a delay in its revision of the syllabus and it has to be kept theoretical for the students to be taught a broad spectrum of subjects. Most of the time the core curriculum and the elective subjects will be the same in two colleges remaining same year by year. In the case of PGDM, the curriculum is autonomous and hence changes as required by the industry trends. Different colleges can also offer different electoral and supplementary courses. The curriculum is industry-based. It imparts soft skills based on the changing demands of the industry. It intends on making its students industry-ready.
How will a PGDM help me professionally as a Graduate/ Entrepreneur/ Working professional?
In addition to being a practical industry sensitive course, the PGDM has offered more focused subjects. It also has a shorter course period and a lot cheaper than an MBA. As it was focused more on working professionals the course intends to add and enhance their skills. It can also get you a raise in your current job while some companies like Deloitte and Amazon can offer a significant hike in salary based on your profile, skill, and experience. It also enhances your arsenal of skills and can also help with building up the network with individuals within the same fields during the course. It is not only for the working professionals but also for the freshly graduated students and budding entrepreneurs who yearn to enter the business industry with a ready set of skills and experience. Students don't need to be from the management stream or course to do a PGDM but are only required to have passed with a minimum of 50% in their graduation degree. It helps them train in the course of 2 years and if the course is done from a prestigious institute like Lexicon Miles or IIM, there is the insurance of better placement and skills and a proper authentic certification rather than having a risk of fraudulent courses in some colleges. It opens up to a package of INR 3- 12 Lakhs and a few of the positions offered are System Analyst, Chief Human Resources Officer, Finance Controller, Business Analyst, and Assistant Manager, so freshers also have a huge scope in the industry after this. It can also help the people who are going to succeed in their family business. It can help them build up and improve the systems of their business and their network. It can also enable them to understand outdated trends still followed by their traditional or family-run business.
What after my PGDM?
Some students want to enter the business industry as fast as possible through PGDM but also want an MBA. Yes, it is possible to do an MBA after completing a PGDM for the additional accreditation of your repertoire of skills and resume as it is a Postgraduate Diploma course and hence it can be beneficial to do both of them. While a PGDM will help you get into the industry earlier with a focused set of skills and build your industry experience, the broader knowledge set that an MBA has will also aid you to make smarter decisions and gain the edge that will make you reach new heights. The theoretical knowledge will also be more digestible with ready references or thorough experience in the field.