Is work experience all that important before pursuing PGDM ?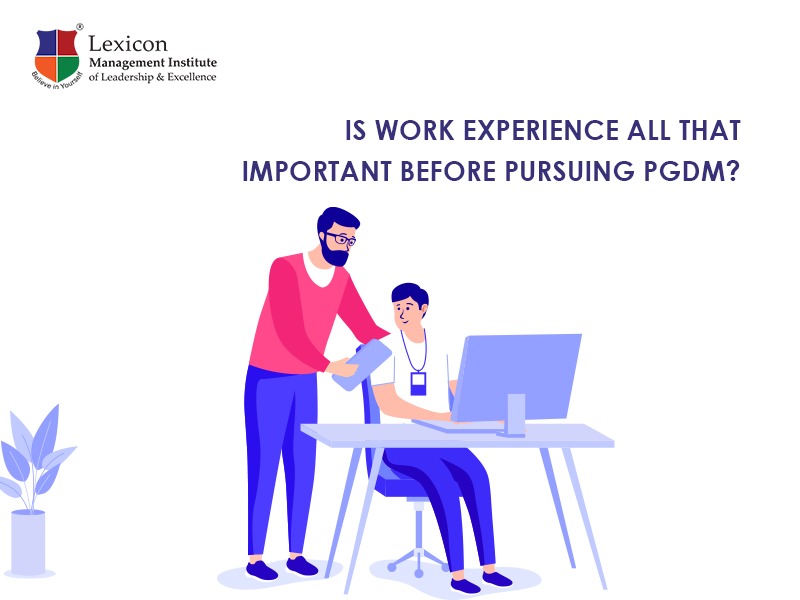 Your dilemma to decide upon, if you want to pursue further education or to work is a task in itself. You either work and then opt for post-graduation or you can start with your post-graduation directly after finishing your graduation. The dilemma goes on. But the question is what can you do to start your career? The point is, is it really important to have any work experience before pursuing a PGDM course or Post Graduate Diploma in Management. The PGDM programs are widely curated to take advantage of the knowledge that we learn during the course. And there comes the pressing need of having work experience before pursuing the PGDM course. A long list of top business schools, colleges, and institutes do not compulsorily require prior work experience but it is always agreed upon that having 1-2 years of experience in any industry can bring out the competency of the PGDM students.
The main objective of the PGDM course is to create management professionals. To create professionals who have leadership and directional qualities to help the organization achieve its targeted goals. The number of PGDM graduates has grown exponentially over years. And students from every field of industry are pursuing PGDM as the PGDM course recognizes clear paths to success from the very start. It is suggested that people with work experience have a fair understanding of the corporate world and how things work. So, to dissolve this dilemma, here are some why's and why not to understand better if work experience is necessary or not.
The PGDM course is curated to have a focus on real-time industry experience. So, the PGDM courses add case studies and fieldwork to their curriculum. Having work experience helps the students to learn the best of the course. Prior work experience helps to analyze the circumstances more practically by having personal insights from the workplace. The learning experience in PGDM programs is a combination of theoretical and practical world knowledge. More importantly, it does not stop only the corporate world but also the business world.
If you choose to pursue PGDM programs after having some legitimate work experience, the chances of your selection in top PGDM schools, college and institute increases. Though work experience is not a criterion for most of the institutions yet if you have work experience the evaluation chances are high. The PGDM course is affiliated with the All India Council for Technical Education who has set a rule for having 5% weightage for the work experience. Just in case, you are unable to have a consistent and eligible score in your graduation, the work experience can help you cover the gap.
As we are aware that, education is getting costlier year by year. Whoever has chosen to take a gap and work, has the opportunity to save and pay for their PGDM by themselves. Saving up would help you develop a good habit of making yourself a bit proud as you would be paying for yourself. In case if you feel that 1-2 years aren't enough to save, you can always choose to work part-time which will add value to your resume.
It is normal for people to find their passion after switching jobs to jobs. The primary years of work experience provide real-life work-related lessons. The tricks and tactics with your actual interest, everything. Working before pursuing PGDM helps you to understand what can be your career path and in which industry. You would be able to juice out every inch of your theoretical lessons and move ahead in your decided direction with confidence.
Having an additional certification is never going to harm. All you would do is gain more knowledge. Doing a PGDM course is a 3-step process, location, industry, and role. It is difficult to decide upon all the 3 aspects. If you have a beforehand work experience, it is quite easy for you to figure out what role would be most suited, and which organization you want to work-in, also what industry would you be comfortable working in as this will define your career path.
The best part about having work experience before applying for the PGDM course is that you can work in any desired industry and switch after completing your PGDM course. The work experience does not restrain the students unless it is quality work. You can join an NGO and that too would be considered as work experience. It would also add up to your skills of efficiently contributing to society and hence give a little boost to your resume.
The PGDM courses are different from what you learn in your graduation. They are more intense and competitive. You are expected to be responsible for your learning and understanding. If you tend to have any work experience beforehand, your motivation is clear and so you try to cope up with all the challenges that come your way. You develop the motivation to work in teams with complete team spirit. In case while working you realize that you want to diversify your profile, PGDM should be your choice.
If you first choose to work and then pursue your PGDM, you would have the benefit of managing everything smoothly. You must be aware of the fact that PGDM demands crucial time management. But as you have already worked before, you would be practiced to manage your time properly. This will give you an advantage over the others as you know how to work with deadlines, assess your progress, and keep tabs on several things. Time is money and this is what you will understand once you familiarize yourself with the evolving corporate world. Having known the importance of time will help you to understand the curriculum better, you can figure the program designs and which and what management tools and techniques are being taught.
A PGDM course can only offer you the base while you will have to attain the practical experience by yourself. Though not many institutions require work experience, yet it is good to have it as an additional benefit. Even if you wish to continue your work partly, you can do so with either an online or distance education course of PGDM. Exactly how much experience is never mentioned in the criteria but about 2-3 years of experience would be ideally sufficient to pursue the PGDM course. As your post-graduation is said to be one of the most important degrees of your life, it is absolutely fine to evaluate your options and then make a sensible and firm decision. Choose what suits you and you will have a growing career.