Key Skills That Recruiters Watch Out For In PGDM Graduates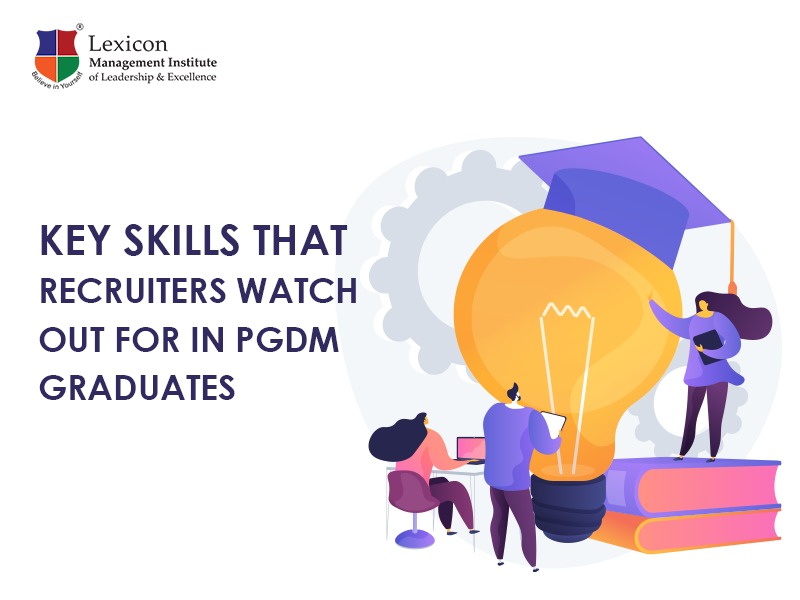 From planning numerous strategies to focus on finding a decent job, is a task itself. On top of that, evolution being the greatest discovery makes it difficult to be completely armed with knowledge yet easy to know everything at just a single click. If we look 5 years back, the requirements and necessities were way different. The job profiles and the demands for it were quite stereotypical and didn't have any extra-ordinary need. Now the world has a different vision and perspective. The job profiles have a wide range and are different, so they require different and unique attributes. What is that one different thing in you that others don't have? This is the most prominent question. There are so many things to learn and adapt which increases your resume value. Over the years, there has been a big refinement in the essentials that an employer looks for.
Leaving behind the traditional approach, employers now look for a modern approach towards the growing market, maturity, and realistic professionalism with psychological concentration. A personality that is enthralling and determined. One must ask several questions to fit in the criteria like How can one make their resume have additional value? What would be that the employers would be looking for? Is experience necessary? Any extra skills required? What would be the basic requirement of the job? The answer to these questions will be one thing, you need some fundamental traits like hard skills and soft skills.
So, what are hard skills and soft skills? Hard skills are the technical skills that one needs to work in the chosen industry. These are specific skills that would improve one's efficiency for the organization and would help to complete the target line of work in time. Then there are soft skills, these skills are the non-technical skills that the employer requires. Soft skills are the ones that affect the working efficiency, work culture, and interactive compatible environment. So, the companies now look for all-rounders, a perfectly balanced combination of hard skills and soft skills. Here are some key skills, that recruiters look for in Post-Graduates Diploma in Management pass outs:
Innovative ways of Problem-solving – An employee has to face various problems while working in an organization. The ability to come to a sensible solution which would improve the working situation as well as won't create more problems is necessary. The problem could be work-related or something related to the work surroundings and the solution should be efficient and quick.
Teamwork and Team spirit – While working for any organization, it is of utmost importance to have mere patience and team spirit. To maintain a healthy and comfortable working environment the employers try to find employees who are willing to grow together with other employees and alas make the organization grow.
Communication skills – This is the most basic trait that the recruiters require, and the search for it begins from the interview sessions for the recruitment process. To be able to have a team, the employees must create a bond between themselves. Also, conveying exact information verbally and non-verbally facilitates commercial benefits. This skill is most required in managerial positions.
Learning capabilities – The recruiters want employees who are keen to learn new things. This trait allows the graduates to increase their knowledge both subject-wise and technical also. Learning new things not only helps in increasing skills but also, knowledge stays for life and can be used anytime and anywhere.
Leadership skills – Everybody is a born leader of their own lives. The recruiters need to understand that one can keep a group in binding and help everyone move forward together as a team. Valuable leadership skills include the ability to delegate, inspire and communicate effectively, with essential thoughts while making a decision.
Decision Making – An individual should have a good sense of decision-making. And so, the recruiters prefer individuals who can make appropriate decisions. Decisions making is a continuous process in every kind of industry and business. Having a good sense of critical thinking which will ascertain the ability of the employee to identify, analyze and come up with an effective solution.
Time Management – The employer is looking for someone who has efficient working skills. The graduates now require good time management skills to be more productive in less time. Time is of utmost importance for every business and organization today and every minute must be used effectively for better growth of the organization.
Adaptability – An organization requires employees who can adapt to changes and growth instantly. The recruiters need an individual who can fit right in, any role, city and be open to any exposure with learning opportunities that would come their way.
Curiosity and active listening – the reason to mention these traits is that, when an individual is applying to any organization, he/she should be curious to know more and learn more with good listening skills to communicate and understand effectively.
The recruiters do not stop evaluating the skills just at the interview and placement process. They need people who can develop and innovate with achieving profits. They require dedication and effort which will broaden the scope of improvement. The recruiter is aware that there would be several obstacles your way and they need you to work on yourself to get past these obstacles. The journey for your career cannot process until and unless you have all the will and ability to work with different kinds of people, expand your network, make friends, be target-oriented and creative with your work.
In this complete process, mental stability and emotional intelligence are considered crucial. There would be tough times and workload would overflow, but the recruiters need fighters who can handle such situations with great maturity and productivity. At last, you need to be filled with confidence and a big smile, that would reflect your personality and make you more positive. This is all that the recruiters need when they hire PGDM graduates. Keep working on yourself as there is always a place for improvement and jump on the ladder to your success.