Top GDPI Topics for Global MBA Program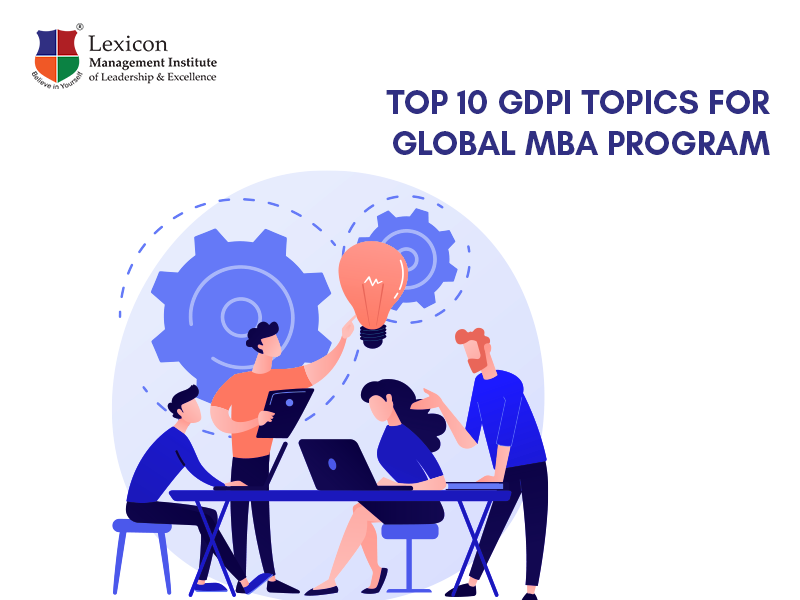 Introduction:
GD/Group Discussion is a detailed technique. It helps to assess the suitability of an individual for acceptance, scholarship, employment, etc. This will evaluate a candidate's personality. They also consider some other factors, opinions, emotions, and behaviour of a person. A GD takes 20-25 minutes. An issue is illustrated to the group members for discussion. In the debate, the panelists examine speakers for their leadership quality. They also assess factors like communication ability, clarity of thoughts, and proficiency to present an argument. These factors are crucial for an individual to achieve as a manager. Group Discussion is an important selection parameter. MBA GD topics polish you for the GD rounds.
Topics are further divided into four categories which are:
Abstract Topics
Controversial Topics
Business and Economics Topics
Social Issue Topics
Current Affairs
These are utilized to judge a person's social skills, leadership skills, squad skills, problem-solving skills, and on-the-spot reasoning.
10 Topics that can be discussed in a Global MBA Program:
Spending Budget on Public Health due to the COVID-19 pandemic.
India's role in fighting coronavirus compared to developed countries
Is social alienation the new world?
Have we entered the virtual world with everything happening online?
The Nationwide lockdown due to COVID 19
Fall of World Economies
Do you feel there is a barrier to Media Freedom?
Why Is Individual Data Privacy being crucial?
Is Trump building the World Trade War?
The key to success is Hard Work or Smart work
"Patience is the key", is it true for business and Management?
Work-Life Balance is a Myth
Building techniques Vs Execution
The topics in headlines are most likely to grab the stations in such Group Discussions.
MBA Personal Interview or PI
The ultimate round for MBA program selections is the PI. This round is conducted to quiz linguistics and communication skills. The presence of the mind is a must. How do you submit your views and understanding skilfully to convince others is carefully analyzed.
Candidates will be assessed on the following aspects:
Introduction
Communication skills
22Eye movements
Body postures
Interventions
Research
MBA PI Questions:
Why do you want to complete your MBA?
Why this university? Why this arena?
Why should we choose you?
Do you have a plan about what will happen if you aren't selected?
Do you have diplomatic or troublesome relations with your family?
What is your blueprint for your near future? Tip: Try to concentrate on skills development, boosting responsibility while bringing out your goals as an achievement.
What are your courage and shortcomings?
Your favourite subject in college and queries on them.
Do you plan to use your knowledge acquired from graduations and post-graduations? If yes, then how?
Conclusion:
They try to assess your short-term and long-term goals. Understanding current affairs will also help you in your business management. We cannot overlook academic fulfillment as a criterion. A positive outlook attitude will get you through in the PI round.
We aim to help you retain the basic idea. Practice and prepare yourself to speak on mentioned topics. Lexicon Management Institute of Leadership and Excellence has trained people. They will guide you through every step of the program. The best academically equipped institute for you with a renowned teaching faculty. Lexicon is your ultimate answer to success.