Top 5 entry requirements for anybody who wishes to pursue PGDM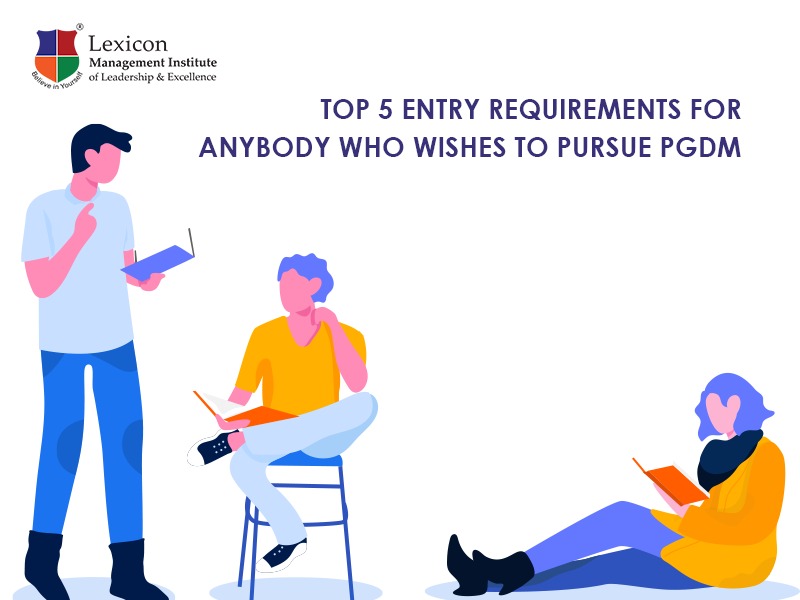 Eligibility and PGDM
With a rapidly ever-growing and fast-changing business industry at work, how is one supposed to stay in the game and not fall off due to a lack of adaptability to change in trends and lack of soft skills and practically correct acumen of things? These things can be gained by you at a university level, regardless of being a fresh graduate or a working professional. It can be gained best in the form of an MBA and a PGDM.
PGDM or Postgraduate Diploma in Management is a diploma course in Business management. It is very similar yet different on some levels from an MBA which is a Master's degree in Business Administration. It is a 2-year duration Post Graduation course and is offered in most management colleges and has a very industry-sensitive curriculum. Due to its autonomous nature, the curriculum is very practical and has soft skills required for the industry, and its shorter duration and cheaper fees, as compared to an MBA, make it a great path to enter the industry faster and also swiftly gain a lot of assets. This course does not need to be affiliated with the university as autonomous colleges are also able to have these courses and they are as much credit as the affiliated colleges. These colleges can have slightly different curriculums and can also offer different electoral subjects. Some of the Postgraduate Diploma in Management courses are as listed below:-
Post-Graduation Diploma in Management in Marketing- The course helps in learning the important marketing activities of a product or enterprise like sales and distribution, product & brand development, and market research.
Post-Graduation Diploma in Management in Finance- Helps the one to understand and deal with the dynamic monetary and financial business functions of an organization like banking, economics, accounting, and market structure, etc.
PGDM Post-Graduation Diploma in Management in Information Technology- The course helps in skills for account management, systems consultancy, business development, sales, and ERP solutions.
Post-Graduation Diploma in Management in Human Resource - This course helps in developing skills to deal with industrial relations and personnel management and hence creating jobs within the organizations relying hugely on the mobilization and development of their human resource and workforce.
Post-Graduation Diploma in Management in Hospitality and Tourism- The upcoming luxury hotels, booming aviation industry, and tourism development have led to the opening of new job opportunities in this sector.
Eligibility criteria for any PGDM course?
To be able to do any course, one has to be first eligible for it. The same is the case for the Postgraduate Diploma in Management. If we are to check the best universities like Xavier, IIM, and Lexicon Mile, we can list down the top 5 entry-level requirements for anyone who wishes to pursue a PGDM. They are as follows:-
Entrance exam -The applicant must pass and score a good score in the entrance exam required by the college. Some of these exams are conducted by colleges/universities as many of these institutions are autonomous. The exams are namely –

Common Admission Test (CAT)
Xavier Admission Test (XAT)
Graduate Management Aptitude Test (GMAT)
Common Management Admission Test(CMAT)
Management Aptitude Test (MAT)
Association of Indian Management Schools Test for Management Admissions
Narsee Monjee Institute of Management Sciences Management Aptitude Test (NMAT)
Symbiosis National Aptitude Test (SNAP)
Indian Institute of Foreign Trade (IIFT)
Institute of Rural Management Anand (IRMA)

Graduate - The applicant has to be a graduate with a bachelor's degree or of some other equivalent qualification obtained in any discipline.
Passing percentage - The applicant needs to have passed with 50% or more for the bachelor's degree or the equivalent course.
Work experience – Some Schools require the applicant to have some work experience and the institute specifies the minimum required work experience.
Basic Understanding of the business industry- Some schools require the applicant to have a basic understanding of the related business industry (for example, the Tourism industry for the PGDM Tourism), be able to grasp the skills and concepts they will teach in the particular PGDM course.
How can I prepare for my PGDM course?
Applicants need to study meticulously to crack the required entrance exams and pass with a score that is acceptable to the college. Some colleges offer previous year test questions and mock tests for preparations.
Students who are freshly graduated need to work as an intern or gain the required working experience required by the college. Some colleges offer internship programs within the campus too. Students or Graduates who have worked in family businesses need to get official documented proof or a certificate validating their work there. But the company has to be officially registered for the work and certification to be valid. Working professionals need not worry about these criteria as their current jobs also fulfil the work experience requirements. It is the same case for entrepreneurs and self-employed professionals.
If the applicant has scored less than 50% in their graduation, they can opt for distance learning PGDM courses that are available in some colleges. They have to be careful in choosing the college as the reputation of the college also affects your course accreditation.
Applicants need to be careful in choosing the college and course they are doing as there have been cases of fraudulent colleges and/or courses in the past. It is always safer to do the course from a reputed college as it will also increase the value of the course and in turn your resume.
Every degree requirement is different and yet the same. It is really important to note that, you can prepare yourself with a good amount of work experience for the PGDM course as to its flexible course creation. There are never limits to imagination and dreams. Be consistent and focused throughout your schooling and graduation and you will get the pay-off while applying to your dream college or institute.