MBA Specializations and Their Types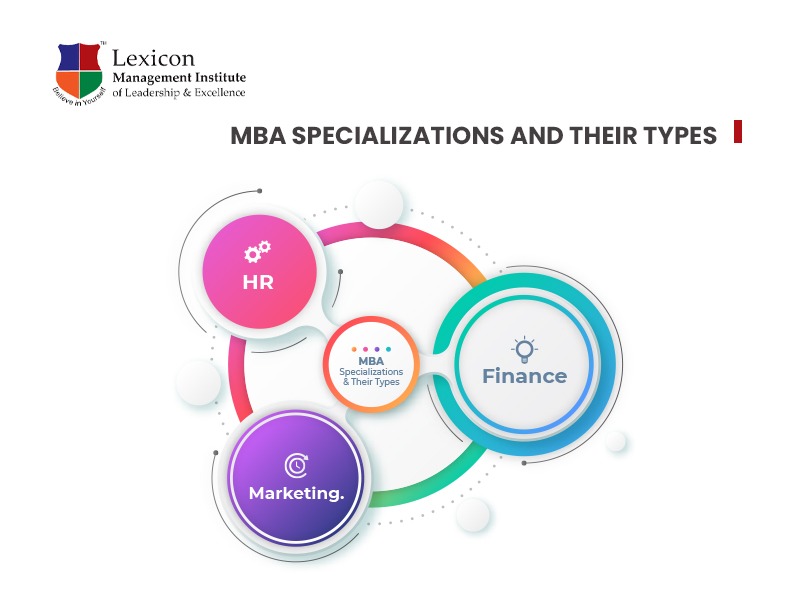 The corporate world is very lucrative to people who want to make it big. These are the ones who aren't afraid to take risks and assume responsibility. If you aspire to be a manager at an international corporation or start your own business, an MBA degree is a great choice to do. All you need is an MBA specialization.
develop your knowledge
Polish your skills
join in like-minded business people and tycoons
learn how to slant business situations from different outlooks
Let me quickly walk you through MBA specializations and their types. It includes courses in Finance, Marketing, Strategy, HR, Business Analytics, Healthcare and so on. Find out a college that has a holistic approach and doesn't focus on one subject in particular. One of the best B-schools is Lexicon MILE. Here the professors' goal is to make you an overall better professional and provide the necessary support to take the next step in your career. The Institute prepares you to become Day Zero Professionals.
Yes, you heard it right you can do MBA specialization in a certain subject, both being majors like Marketing and Finance. It is possible!
There are many MBA specialization courses, designed to advance certain skills which are relevant in your chosen business area. Following listed are the most popular MBA specializations:
MBA in General Management
MBA in Marketing
MBA in Human Resource Management
MBA in Finance
MBA in Business Analytics
MBA in Supply Chain Management
MBA in Consulting
MBA in Entrepreneurship
MBA in Healthcare Management
MBA in Operations Management
MBA in Management Information Systems
MBA in Global Management
MBA in Engineering Management
MBA in Technology Management
MBA in Sports Management
Respondents affirmed that compared with the amount before the 2020 pandemic, the demand for master's degree graduates within the technology business is predicted to extend by 100% in 2021. Company recruiters predict robust demand for graduate school graduates, and 9 out of 10 expect them to grow or stay stable within the next 5 years. a better share of recruiters in 2021 (37%) expect demand to extend from the previous year (30%). Compared with Asians in their country, over 1/2 of European recruiters (54%) believe this read. (32%) and their Yankee counterparts (34%).
Before the pandemic, ninety-two of recruiters aforesaid they planned to recruit master's degree graduates in 2020. However, the disruption caused by COVID19 has negatively affected these programs, that the actual accomplishment of master's degree graduates (80%) is below the 2020 forecast going ahead, the proportion of recruiters targeting MBAs in 2021 is (91%), returning to the amount before the 2020 pandemic (92%). The master's degree accomplishment forecast shows resilience in key regions and industries. 76%.
According to interviewees, the demand for technology master's degree graduates in 2021 can increase by 100% compared to 2020 educational institutions. The information conjointly shows that a simple fraction of recruiters within the technology business (68%) agree that their organization's executives usually have a graduate degree in business administration, a rise of eleven share points from 2020 (57%).
To take a closer look at the MBA specializations offered by Lexicon MILE, you can contact the admission Team. They will be more than happy to guide you towards your career goals.