PGDM Careers & Placements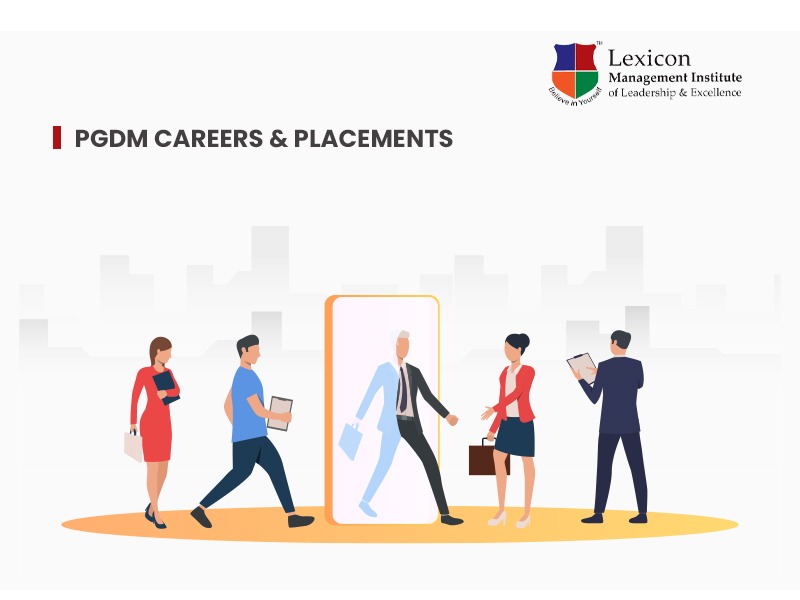 After the pandemic, the world around us has evolved so much, but one thing is for sure that the pandemic taught us & world fact as – change is inevitable. We have witnessed numerous changes in every sector. Business houses won't stop even during the pandemic as thousands of lives are dependent on it. Pondering the situation & redundancy in jobs as an impact of a pandemic, on the contrary, according to the survey by Indian Express (July 1, 2021), Corporate recruiters project a robust demand for business school graduates with nine in 10 of them expecting it to increase or remain stable in the next five years.Job opportunities after the pandemic will increase. Management education always extends the graduates' domain knowledge of business, finance, marketing, economics with practical exposure.
We, at Lexicon MILE, are more focused on academic curriculum to make Industry connect & industry-ready resources. Apart we work on the foundations of communication skills, leadership capacity, decision-making proficiencies, teamwork to build higher employability skills. We believe in creating not just leaders but to build entrepreneurs as well.
We encourage the entrepreneurial ideas of students to bring them into practice with institutional support. With the amalgam of Industry & Academic experts in a different domain, we offer conceptual learnings with practical exposure. Our renowned academic resources, who are the lifeblood of our institution, deliver the knowledge & training with their passion & hard work to the students. In the new age where the knowledge from the single domain is going to be passed, we offer dual specialization to equip students with a broader horizon and strengthen the skills to thrive in a changing world.
In the present era of technology, personalized learning has become a buzzword in the education sector. With our concept of rigorous mentoring, we offer an experience of personalized learning to each learner. Our Industrial visits extend a great source to students to peep into the practical world of business houses and how to bring conceptual knowledge into actions.
With 9 months Internship, students are exposed to the real working environment and introduced to a wide range of career opportunities. It is an insight for learners into different domains apart from their specialization. Our various certification programs deliver a competitive advantage to the Lexicon Students in the crowd. These certifications enhance the standard of competence and more job opportunities.
We always focus on inculcating the team spirit & universal human values among students as a part of their holistic development from their induction program outside the campus. We strive to bring in a unique fusion among cultural, gender inclusion & diversity.
We work upon the thought "Life is a Journey & only you hold the map of your journey."Your thought becomes a word & your word becomes an action. We Lexiconites make the students believe in themselves & to make their world.