10 Popular Pgdm In Marketing Colleges In India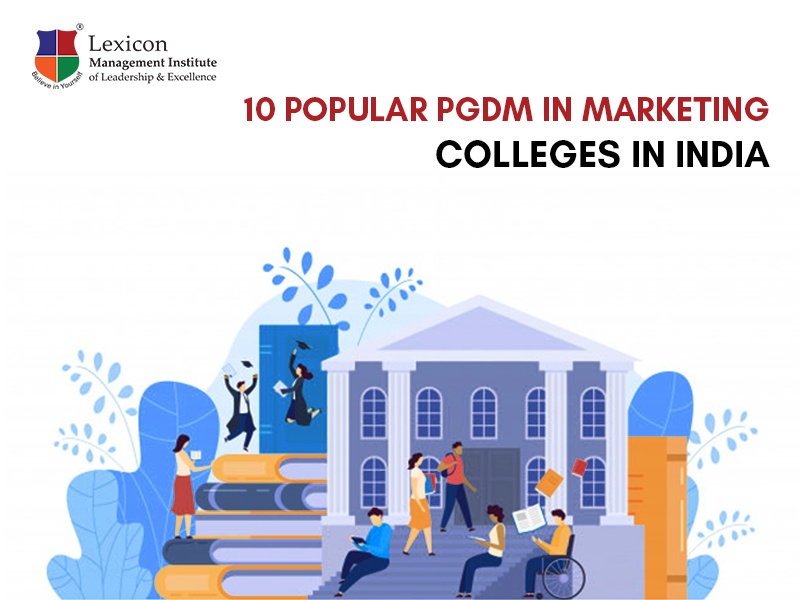 Marketing helps us to reach a broad range of audiences. Marketing is a wide-scoped field with prospects in and even outside the country. It is the promotion and induction of the product and services of the company. Marketing can be done by other affiliates or organizations on behalf of the company or many companies have their marketing department. There are different types of marketing. Namely, product and service marketing, outbound marketing, and internet marketing. Marketing can be an advertisement, brochure, press release, or even Instagram handles. The fact is, marketing is the intersectional bridge between the customer and the business. It is quite difficult, to sum up, the entire marketing concept into a single definition. It has a broader perspective than you think.
To learn in-depth about marketing you can pursue a Postgraduate Diploma in management or a PGDM is a 2-year diploma in management. It is a very similar course to an MBA or Masters in Business Management. A PGDM in management is a PGDM that specializes in focus on the role and importance of marketing in the business industry. It focuses on practical soft skills like leadership skills and team skills and technical theoretical skills which will help in understanding the market better. The colleges manage the curriculum of the course and the electoral subjects too. In a diverse country like India, there are a lot of colleges that pop up now and then and we need to know the colleges with a valid certification. These colleges are recognized by the All-India Council of Education. Doing a PGDM in marketing and hoping for a successful career path, why shouldn't we go for the most reputed colleges and most accredited colleges in the country? The more popular the college the more recruiters and employers will know and recognize you for your skills and credibility. It can also get you good support in finding jobs abroad. The bigger companies will seek to get the students from the country's prestigious and reputable colleges. They get better placement and internships in these colleges too, giving you better experience and opportunities and jobs to jumpstart your career.
Some of the most popular colleges to do a Postgraduate Diploma in Management in Marketing are as stated as follows with their average fees for the PGDM in marketing course:-
ASM's Group of Institutions, Pune (ASM) - The Audyogik Shiksha Mandak (ASM) Group of Institutes offers a varied educational requirement starting from pre-school to Ph. D. They provide good infrastructure with a good placement track record, with exchange programs.
Lexicon Management Institute of Leadership and Excellence – Famous for its PGDM courses, Lexicon MILES has proven it's one student a time approach. They provide more than 20+ certifications, 6+ month internship, and dual specialization which makes them different from others. They have collaboration with the University of South Wales and the University of New Haven, which provides students with globally relevant education.
Calcutta Business School, Kolkata (CBS) - An autonomous institute affiliated with AICTE and governed by Shri Shikshayatan Foundation, has created an environment that is educationally provoking with experienced faculty from the industry.
International School of Business & Media, Bangalore (ISBM) – A private business school, which offers 7 courses across 3 streams. They are known for a particular specialization that is Business Analytics with intercampus exchange programs to combine different programs of different specialization.
ASIA PACIFIC INSTITUTE OF MANAGEMENT, NEW DELHI [AIM] - Founded by All India Asian Education Foundation the Asia Pacific Institute of Management, is a non-profit autonomous body that provides four different specializations and proved 100% placement with the help of the Centre for Corporate Relations.
ACCMAN INSTITUTE OF MANAGEMENT, GREATER NOIDA [ACCMANIM] - Established in 2006, Accman institute of management provides an industry-focused and globally recognized education. They aim to bridge the gap between conceptual skills and implementing them into the real world of business and corporate. They hold important positions in creating value for their organization and the nation.
Symbiosis Institute of Business Management, Pune (SIBM) – A private institute, affiliated by Symbiosis International University, has ranked 22nd in top business schools in India. To prove this, they have provided extraordinary infrastructure with excellence in academics and have put forth valuable contributions to industry and society and students. They have two different courses known as Innovation and Entrepreneurship, and Leadership and strategy.
Bharati Vidyapeeth Universit, Pune - Located in Pune, Bharati Vidyapeeth University is deemed and accredited by the National Assessment and Accreditation Council. They offer under-graduate, post-graduates, doctorate, diploma, and certification courses. They have also come up with a distance education mode. They have 80 colleges and institutes of conventional and professional disciplines.
Balaji Institute of International Business, Pune – Recognized by AICTE with A++ grade, is a constituent of Sri Balaji University. They provide three main specializations out of which one is marketing and has more than 100 visiting expert faculty which gives students more industry-based knowledge.
Assam Universit, Delhi – Starting from B. Tech to PGDM, they have it all. With unique specializations like hospitality and tourism management, they have quite a variety of specializations in every discipline. They have tie-ups with different banks and multinationals providing complete placement.
One of the best things about this course is the opportunities to go abroad are the best in this course. The different electoral subjects also enable you to get a unique specialization. This unique specialization will give you a greater edge in this cutthroat competitive business industry. Career opportunities that open up with the course of PGDM in Marketing are as follows:-
Market Research Analyst

Approx. average Salary – Rs. 3.55 Lakhs per Annum

Marketing Executive

Approx. average Salary – Rs. 10 Lakhs per Annum

Marketing Manager

Approx. average Salary – Rs. 7 Lakhs per Annum

Business Development Manager

Approx. average Salary – Rs. 6 Lakhs per Annum

Brand Manager

Approx. average Salary – Rs. 10.80 Lakhs per Annum

New Product Manager

Approx. average Salary – Rs. 5 Lakhs per Annum

Advertising Manager

Approx. average Salary – Rs. 4.90 Lakhs per Annum

Marketing Communications Manage

Approx. average Salary – Rs. 9.05 Lakhs per Annum

Sales Manager

Approx. average Salary – Rs. 4.60 Lakhs per Annum
In areas such as Publishing Companies, Academic Institutions, Retail Companies, Manufacturing Companies, Advertising Companies, Finance and Insurance Companies FMCG Companies-Commerce Brands, Clothing Brands and Stores, Banking Industry, Tourism Industry, Media Companies, Advertising Agencies, etc. The list of opportunities can go on and on, yet won't stop.