Opportunities for a PGDM graduate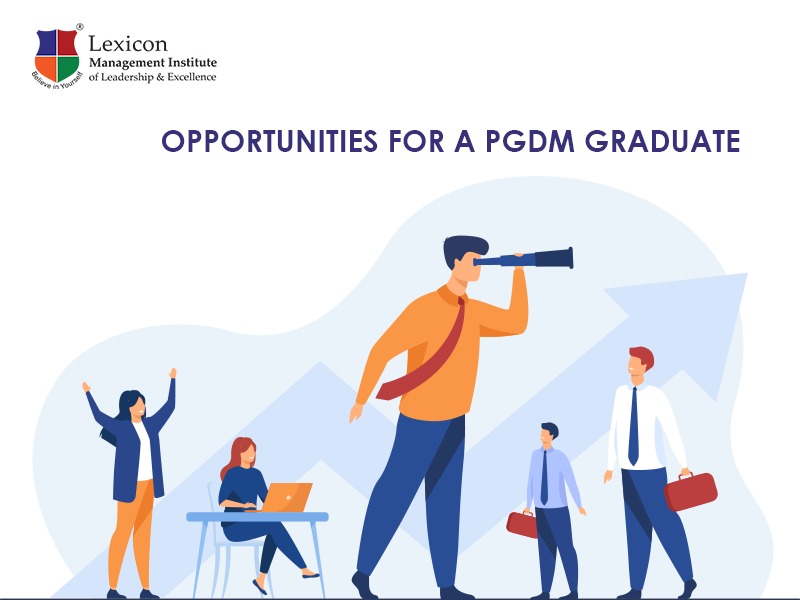 Carlton Fisk has rightly said, 'it's not what you achieve, it's what you overcome. That's what defines your career.' Having big goals is exciting, isn't it? There is always that optimistic rush when you predict the final results of all your education and the additional efforts you have taken to have a secure and satisfactory job. Even if not a job, a lot of people have so many unique and different ideas to start businesses. There is one post-graduate degree that prepares you for both, the corporate industry and the business world, that is the PGDM degree or Postgraduate Diploma in Management. Management is the key feature to run any and everything. PGDM is not just any course, it is a well-constructed course with specifications that polishes and grooms your overall individuality and hones your unseen skills.
Furthermore, a PGDM graduate has learned all the abilities like problem-solving aptitude, real-time work-related situations, leadership skills, managerial skills, communication and presentation skills which expose a bigger range of prospective work areas like, marketing, sales, financial and business analytics, finance, international business and many such more. This degree will be helpful to achieve the ability to manage and administer a larger-level of projects and work with efficiency.
The opportunities that come along with the PGDM course are in a wide range and quite diversified. There is a broad scope as after a PGDM course one can apply in different sectors, and for different job profiles. Let's take a quick look as to what are opportunities that you can apply to:
Research Organizations: The PGDM graduates have respective career opportunities in the field of research. The research organizations are in search of PGDM graduates for different positions like business analysts, risk analysts, analytic experts, or even financial analysts if you are good at playing with numbers and computing them systematically.
Consultants: A consultant is a person who is equipped with required professional advice, recommends and analyzes a particular field, and informs the client to make the best decision. The job in this sector of the industry is available for profiles like Financial entities, financial advisors, or a business consultant. Consultants are also known as advisors and have an option to choose from as to if you want to become a full-time or part-time consultant (associated consultant), of course, the pay varies respectively.
Public Sector: Yes, a PGDM graduate can apply to public sector jobs. Some public sector job profiles require specific examinations to apply for. There are different jobs available like card payments operations head, branch manager, investment banking, zonal manager, recruitment manager, trade and financial services, HR generalist business partner, credit analysis, business operations, corporate treasury, and many more.
Private Sector: A private company has its perks to working for. You can start with start-ups or an established organization, the base is growth-oriented. The job profiles are lucrative and are in different sectors like marketing, finance and accounting, strategies, telecom, airline and airport management, corporate communication and public relations, event management, and many more. You can start as an executive, manager, senior executive, or relationship manager.
Marketing: The most trending sector is marketing. The skills requirements are basic yet, they have so much varied specialization like brand management, digital marketing, accountant manager or executives or business development managers.
Finance: The most reliable sector today, is the finance sector. There is so much to learn and has no limit on evolutionary growth. The job profiles in this sector include chief financial officer, financial analyst, insurance and risk manager, investing sales traders, credit managers and specialists, cash managers, corporate controllers, and many more. This sector changes minute-by-minute and the requirement goes hand-in-hand with the change.
Education: A job of a teacher is of the highest prestige; it involves sharing knowledge along with contributing for the greater good. So, in case you feel that you want to enter into the education industry with a PGDM, you can. All you need to do is B. ED and you are good to go become a mentor for other aspirants. You can apply to schools, colleges, or tutoring institutes.
Becoming an Entrepreneur: Young minds have bright thoughts. In the current world, a huge chunk of the new generations have so many different and unique ideas to have their start-up. PGDM course creates a post-graduate who can face both the corporate and business world. To start with a business, you need skills like communication, managerial, leadership, and many such traits in real-time life, to plan and develop the business as PGDM courses are adept in being industry-ready.
In India and also globally, there is a great demand for professionals who have management qualifications. One can work from the manufacturing sector to IT companies, as we know sky has no limit, you only have to find the path. Now the question arises, how do we ace the PGDM course and achieve our dream jobs? We have your back here. Just take a look here, to answer all your questions.
Being consistent is the ultimate key. You must have a consistent score in your post-graduation with your entire education. Consistency does not only have to be in marks but also in life, to have a steady growth.
You must have heard this one already, Hard work. You need to give your 100% in your studies as well as work. You will be rewarded if you keep working hard. Consistency and hard work go hand-in-hand, if you are consistent, you are working hard.
Determination and Focus. You will have to be firm about the purpose that you are working for. It is really important to focus on the purpose simultaneously working determinedly for greater dreams.
Alas, patience. Nothing in the whole wide world happens in the blink of an eye. The seed you have harvested now will give you the fruit in later life. And that's how it works. You need to keep working on yourself and move ahead. You will get what you deserve with time.
And with these key things, it is not difficult to conquer the world. Remember to dream big and find the path to achieve them. Keep learning as it is one of the most important ingredients to a happy, successful, and constructive life. Have a great life ahead.