A Global MBA vs A General MBA Why choose a Global MBA Program at Lexicon MILE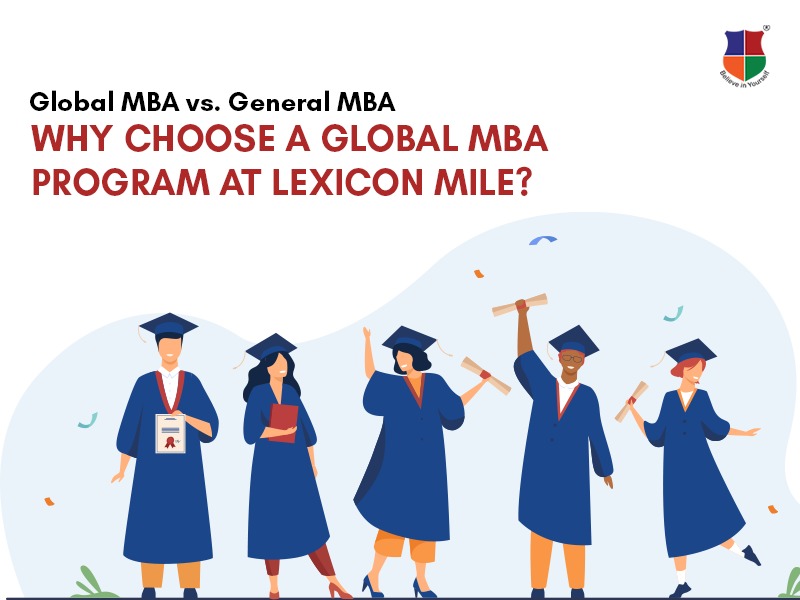 In the fast-developing competitive world, students across the country are in search of a stable and secure future. Belonging to various disciplines, they wish to pursue a management degree, which will lead them to step up the ladder of managerial roles in an organization.

The Lexicon Management Institute of Leadership and excellence is one of the top institutes based in Pune, that offers a wide range of management programs that one can pursue. A student can pursue a global MBA program which is highly in demand as it gives the students immense exposure to the outside world.


Let us peep into the advantages of pursuing a global MBA over a general MBA :-
For a global MBA degree, there is an opportunity to learn management-related concepts at the worldwide level. The general MBA includes theoretical and practical training for management in higher career choices. It can be specific in certain areas such as accounting, finance, human resources, and many more. On the other hand, a global MBA aims at equipping the student to face the universal challenges that require the best knowledge. They are skilled with global perspectives to work in any multi-cultural organization. Apart from these, the study also has these certain features that will make the student excel:
International experience while studying the syllabus
Greater exposure to a professional network, both in and outside the country
Latest and updated course curriculum
Selected and unique course faculty
Affordability for students who want to pursue management
Apart from the basic know-how of what the global MBA deals with, other certifications mentioned below will amplify the chances of getting a job in the international market :-
MS Excel
Digital marketing
UX design
Design thinking
Entrepreneurship
These skills will not be available to you if you pursue the general MBA program. At the Lexicon Management Institute of Leadership and Excellence, the degree includes all of the above as well as includes the entire syllabus of the Post Graduate Programme in Management or PGPM as we call it.
Why choose Global MBA from Lexicon MILE ?
Pursuing a Global MBA from Lexicon MILE, will impart knowledge and learning from the country's best management institute with international exposure. Their Global MBA program of Lexicon MILE is in association with the University of South Wales (USW), UK. Upon completion of the first two terms at the Pune campus, one can head to the UK for the completion of the degree. Added perks being an opportunity for an internship abroad and completing your dissertation with guidance from top faculty is one of the key take-aways. Lexicon MILE also provides placement assistance, where you get a chance to apply to vast career options mainly project managing, HR, global chain manager, and the likes.

The Lexicon MILE is great for the one who wants to pursue a Global MBA program.